HSE Spark Innovation Programme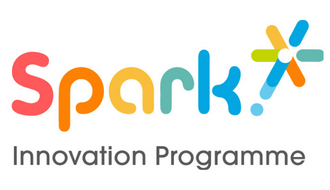 Introduction to the Spark Innovation Programme
The ONMSD commenced a collaboration with the Spark Programme in 2019.
The Spark Innovation Programme seeks to support, promote and recognise innovation amongst healthcare staff within the HSE. The programme recognises the unique insights and perspectives of all frontline healthcare workers. The Spark team believe that the opportunity to develop one's ideas is central to staff engagement, often inspiring for staff, encouraging recruitment, and supporting retention. We also believe that it is not solely about successful ideas but also about the potential shared learning for the system.
Since the Spark programme began in July 2017 the consistent hard work and dedication that HSE frontline staff throughout the country have shown, demonstrates the desire to innovate and improve our health system.
The Spark Programme urges all Nurses and Midwives, NCHDs, Health and Social Care Professionals with a problem solving mind, a desire to learn about design and innovation and more than anything are excited about seeing their ideas come to fruition to get involved as we want to help navigate your problem solving journey.
The objectives of the Spark Innovation Programme are to:
Encourage and support frontline innovation and quality improvement across all healthcare disciplines
Empower and engage frontline staff
Provide design and innovation workshops and promote the role of user centred design in the health system
Create a supportive ecosystem for health innovators
Promote early engagement with emerging technology
The Spark Innovation Programme is supported by:
Office of the Nursing and Midwifery Services Director (ONMSD)
National Doctors Training & Planning (NDTP)
National Health and Social Care Professions Office (HSCP)
ONMSD Nursing and Midwifery National Fellowship in Innovation
The Nursing and Midwifery National Fellowship in Innovation gives a clinical nurse/midwife the opportunity to develop their innovation and leadership skills and shape the Spark Programme.
The 2022-2023 Nursing and Midwifery Fellow
The ONMSD are delighted to announce that Amy Carroll is the current Nursing/ Midwifery Innovation Fellow. She started in the role in April 2022.
Amy is a midwife/ Clinical Placement Coordinator based in Kilkenny. One of her core goals is to ensure that the reality and challenges specific to nursing and midwifery are kept at the forefront when planning Spark initiatives.
Find out more about Amy and her role
Spark Ignite
Spark Ignite is an opportunity for all healthcare staff to put forward their ideas for innovative products or services. The goal of the Spark Ignite Competition is to assist staff to develop solutions to the challenges faced by healthcare providers and patients.
Successful applicants benefit from a bespoke healthcare focused innovation workshop delivered by experts, to hone their idea and proceed to pitch for funding. The initiative will culminate with an opportunity to pitch for funding at either, the Galway, Cork or Dublin Regional Final. A National Final will take place afterwards between the regional winners. Prizes will include funding towards the implementation of your project.
Spark Ignite 2022
Spark Ignite 2022 is underway. This year the National Final will be held on the 16th of June at Spark Summit 2022, with the National winner being awarded an additional €3000 and the runner up receiving an additional €2000.
Spark Summit
Spark Summit is a unique health innovation conference for healthcare staff, industry and academics. The summit focuses on the exciting innovations that are transforming the ways that we provide care!
Spark Summit 2022
Back with a bang!
Spark Summit 2022 is a one-day conference comprising of inspirational[MF1] keynotes, panel discussions and debates. Themes for the summit include:
Frontline Innovation
The Importance of Design
Emerging Health Technologies
There is a reduced rate of 50 euro per ticket for nurses and midwives. You can apply for cost reimbursement from your local NMDPU see:
https://healthservice.hse.ie/about-us/onmsd/cpd-for-nurses-and-midwives/apply-for-funding/apply-for-funding.html
More information and how to apply for tickets
Spark Hospital Innovation Fund
The Spark Innovation Programme in collaboration with the Acute Hospitals Division and HSE digital transformation is delighted to introduce the Hospital Innovation Fund.
This initiative is designed to promote innovation in Irish Hospitals by funding senior-led hospital projects. This initiative offers funding from €20,000 up to a maximum of €60,000.
Senior healthcare professionals can apply for funding for novel initiatives that have the potential to improve the way care is delivered in our public health service.
Hospital Innovation Fund 2022
18 fantastic projects have been shortlisted and so far the first 10 of these have been fully funded.
The aim is to fund all 18 through different Spark collaborations.
ONMSD are happy to note that 4 of the top 10 projects are nurse/ midwife led projects.
Spark Seed
This is an initiative where frontline staff can apply for micro-funding and other supports for innovative projects that will improve our health service. We welcome ideas from a range of innovators, all nursing and midwifery, health and Social Care Professionals and doctors are encouraged to apply.
Spark seed 2022
Applications for Spring 2022 close on the 24th of May. Find out more about Applications for Spring 2022
Design Challenges
The Design Weeks which were a great success in the past years in St James Hospital and The Mater Misericordiae University Hospital, overcoming the challenges put forward by the pandemic and continued in the last year. We are delighted to support this great opportunity for collaboration between frontline healthcare workers, engineers and designers. All health service providers are invited to take part, allowing for cross-disciplinary efforts to bring projects to fruition. For staff in either of these centres look out for local information to get involved.
Design Sprints 2022
In April the Spark team were guests at the presentation of a 5 week design sprint based in the Mater Misericordiae University Hospital looking at the development of their new Trauma Centre. Fantastic innovative solutions were put forward… we can't wait to see how they develop!
Design on the Frontline
We believe that bringing design and healthcare closer together could offer an incredible opportunity to tackle current challenges and shape where we go next. The Design on the Frontline initiative emerged as a result of Covid-19, but the concept has been incubating for longer. Over the past 4 years we have introduced 100's of our frontline staff to the practices, principles, tools and mind-sets of Human-Centred design and innovation.
Design on the Frontline 2021-2022 – Spark Scholars
Following the success of Design on the Frontline, we want to bring this initiative back in the form of a scholarship programme to establish stronger collaboration between the Design and Healthcare communities at a grassroots level.
This year 12 design students from 6 different colleges have received scholarships to develop healthcare solutions.
The selected Spark Scholars will present their work at National Showcase on May 27th 2022.
At the showcase, our scholars will compete against each other to be crowned the winner of Design on the Frontline receiving a grand prize of €3,000.
Annual report of the nursing and midwifery contribution to the Spark Innovation Programme 2020
The Office of the Nursing and Midwives Director, commenced a partnership with the Spark Programme in 2019, a bottom up initiative seeking to support, promote and recognise innovation amongst healthcare staff.
Read about the extensive contribution of Nurses and Midwives to the Spark Innovation Programme 2020 in the Annual report of the nursing and midwifery contribution to the Spark Innovation Programme 2020 (PDF, size 3 MB, 34 pages)
More information
Read more about the Spark Innovation Programme
The ONMSD Spark Collaboration lead is Dr Maureen Flynn Maureena.flynn@hse.ie or 087-9317014
You can get more details from Amy Carroll the National Nursing/ Midwifery Fellow
Related topic

Spark Programme initiatives summary (PDF, size 141 KB, 2 pages)

Nursing and Midwifery National Innovation Fellowship Description 2021-22 ( PDF, size 574 KB, 11 pages)

ONMSD National Fellowship in Innovation Information Poster (PDF, size 289 KB, 1 page)