HSE Spark Innovation Programme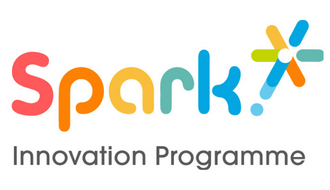 The ONMSD commenced a collaboration with the Spark Programme in 2019.
The Spark Innovation Programme seeks to support, promote and recognise innovation amongst healthcare staff within the HSE. The programme recognises the unique insights and perspectives of all frontline healthcare workers. The Spark team believe that the opportunity to develop one's ideas is central to staff engagement, often inspiring for staff, encouraging recruitment, and supporting retention. We also believe that it is not solely about successful ideas but also about the potential shared learning for the system.
The Spark Programme urges all Nurses and Midwives, NCHDs, Health and Social Care Professionals with a problem solving mind, a desire to learn about design and innovation and more than anything are excited about seeing their ideas come to fruition to get involved as we want to help navigate your problem solving journey.
The objectives of the Spark Innovation Programme are to:
Encourage and support frontline innovation and quality improvement across all healthcare disciplines
Empower and engage frontline staff
Offer supports including funding, education and access to a network within the health innovation field
Provide design and innovation workshops and promote the role of user centred design in the health system
Create a supportive ecosystem for health innovators
Promote early engagement with emerging technology
The programme supports novel concepts with commercial potential including early stage medical devices and technology, social enterprises and novel ways for service improvement.
The Spark Innovation Programme is supported by:
Office of the Nursing and Midwifery Services Director (ONMSD)
National Doctors Training & Planning (NDTP)
National Health and Social Care Professions Office (HSCP)
ONMSD Nursing and Midwifery National Fellowship in Innovation
The Nursing and Midwifery National Fellowship in Innovation gives a clinical nurse or midwife the opportunity to develop their innovation and leadership skills and shape the Spark Programme.
The 2023 to 2024 Nursing and Midwifery Fellow
Catherine Marsh is the current Nursing/ Midwifery Innovation Fellow. She started in the role in June 2023 taking over from Amy Carroll who was the first fellow in 2022/23.
Catherine is a Clinical Nurse Specialist, Sexual Assault Forensic Examiner from Longford. One of her core goals is to ensure that the reality and challenges specific to nursing and midwifery are kept at the forefront when planning Spark initiatives.
Catherine encourages active participation and the contribution of nursing and midwifery in all the Spark initiatives. She is leading the Spark Seed initiative this year as well as contributing to all the team's work in all the Spark endeavours. She is happy to meet with individuals in person, attend team meeting/conference and virtually to discuss any nursing and midwifery innovation queries.
Spark Design
Design Workshops
As part of their 'Spark Design' offerings The Spark Innovation Programme provide Design Thinking Workshops to assist frontline staff in their innovation journey.
Learn about design thinking, develop a design thinking mindset to problems in your workplace and learn how to give the perfect pitch.
The workshops are accessible to all frontline healthcare staff, this enables attendees to be inspired to apply to future initiatives.
For more information: Spark Design workshops - Staff site (hse.ie)
If you have any queries or would like to get involved please contact us on spark@hse.ie
Spark Seed
This is an initiative where frontline staff can apply for micro-funding and other supports for innovative projects that will improve health services. We welcome ideas from a range of innovators, all nursing and midwifery, health and social care professionals and doctors are encouraged to apply.
Spark Seed is open at all times for applications. Spark seed will have periodic closing dates throughout the year where applications will be collated and entered into that round of the process. Watch out for the promotions for the next closing dates.
Next Close Date: 9th September 2023 at 17.00
We had fantastic Nursing and Midwifery representation in the last Spark Seed call (June 2023) over 50% of applications were nurse/ midwife lead. In 2022 46 projects were funded/ supported by Spark Innovation Programme 20 of which are nurse/midwife led and were supported/ funded to assist them on their next step on their innovation journey.
To find out more: Seed Funding - HSE.IE
Spark Ignite
Spark Ignite helps frontline staff with scalable/commercial ideas explore their products and service ideas with experts in this healthcare space.
The National final of Spark Ignite was held at the Spark Summit on 15 June 2023.
The national winning project was developed by Siobhan Meany, Clinical Nurse Lead, Rapid innovation Unit, University Hospital Limerick. The project 'Constant Pressure Irrigation Devise' has been awarded an additional €3,000. The project has shown early evidence of saving huge amounts of operation theatre time, freeing up staff and space to deliver faster, more efficient care for the people of Ireland. We can't wait to see how this project progresses!
To find out more:Spark Ignite - mentorship and funding for commercial and scalable healthcare innovations - Staff site (hse.ie)
Next Call will be announced early 2024
Spark Summit
Spark Summit is a unique health innovation conference for healthcare staff, industry and academics. The summit focuses on the exciting innovations that are transforming the ways that we provide care!
Check out Spark Summit 2023
https://healthservice.hse.ie/staff/spark-innovation-programme/events/#watch-spark-summit-2023
Date for next year to be announced soon.
Annual report of the nursing and midwifery contribution to the Spark Innovation Programme
Read about the extensive contribution of Nurses and Midwives to the Spark Innovation Programme 2021 and 2020 in the Annual reports of the nursing and midwifery contribution to the Spark Innovation Programme 2021 and the Annual report of the nursing and midwifery contribution to the Spark Innovation Programme 2020
More information
Read more about the Spark Innovation Programme.
Terms of Reference for the ONMSD Spark Programme Collaboration
The ONMSD Spark Collaboration lead is Dr Maureen Flynn.
Email: Maureena.flynn@hse.ie
Phone: 087 9317014
The ONMSD National Spark Innovation Fellow is Catherine Marsh Email: catherine.marsh@hse.ie
Phone: 087 4739842
Related topic

National_Nursing_and_Midwifery_Innovation_Fellowship_one-year.pdf (hse.ie)