UMHL joins global community for International Day of the Midwife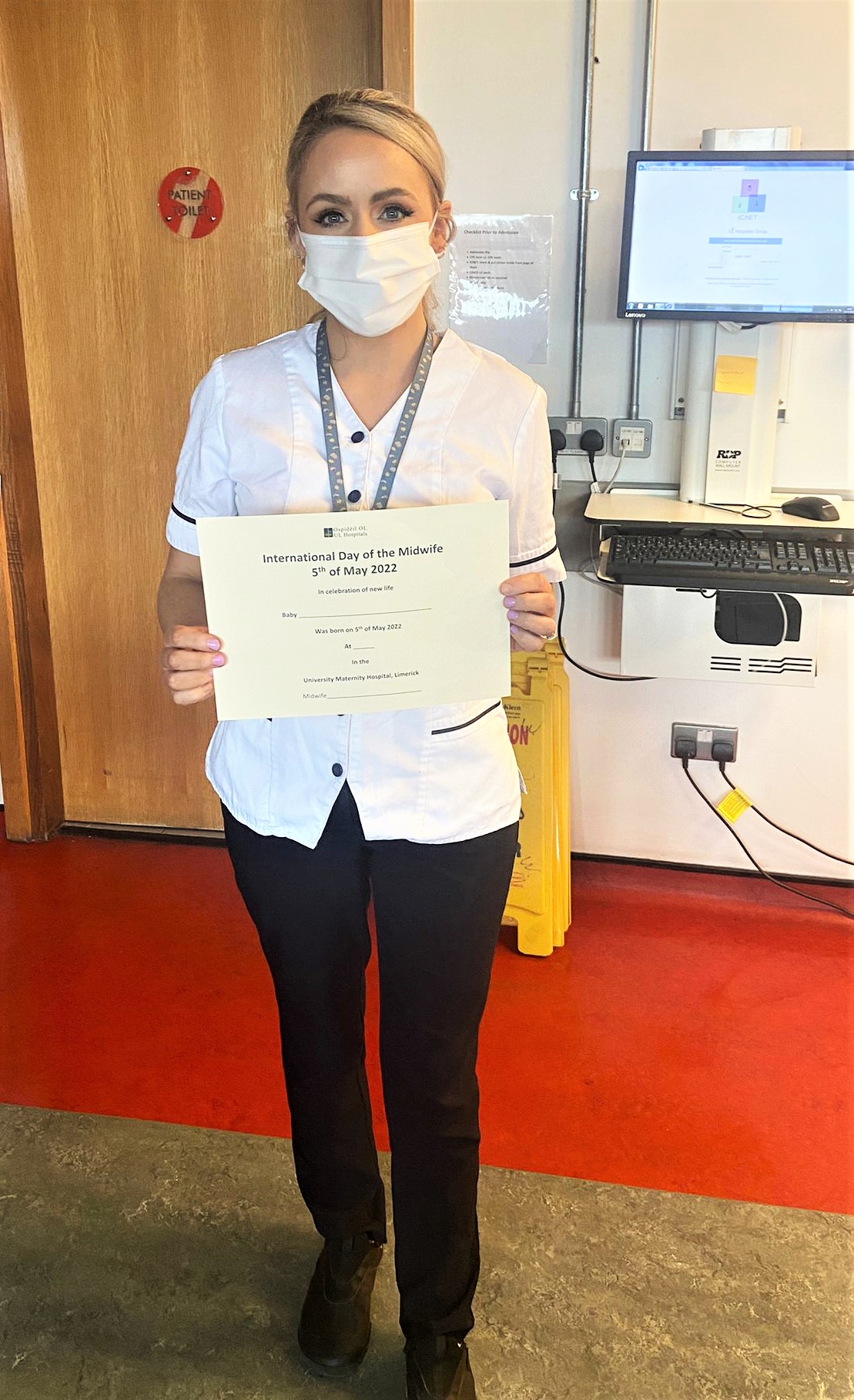 ON Thursday, May 5th, 2022, midwives at University Maternity Hospital Limerick (UMHL) are celebrating International Day of the Midwife, marking a century of continual progress in maternal and child care through quality midwifery - and looking to the future with practical demonstrations of the benefits some of the latest advancements in antenatal education and neonatal care.
The day is a celebration on the theme of '100 Years Of Progress', and also encourages all members of the global community of midwives to advocate for investment in quality midwifery care around the world, improving sexual, reproductive, maternal, newborn, child and adolescent health in the process.
To mark the occasion in the MidWest, commemorative birth certificates will be given to the mums of all babies born in UMHL on May 5th.
Midwives from UMHL will also be participating in the National Midwifery Conference, 'Coming Together to Showcase and Celebrate', which is hosted by the National Women & Infant Health Programme and Office of Nurse & Midwifery Service Directorate.
The national conference will chart the history of midwifery through displays of memorabilia, and explore how information technology has advanced midwifery in the modern age, including virtual clinics and their positive impact on antenatal education, and the latest improvements in neonatal care.
Presentations by local midwives will range from 'Midsight: Inside the Mind of a Student Midwife', a practice-led innovation involving BSc Midwifery students, to some of the recent developments in midwifery-led services, such as the supported care pathway set out in the National Maternity Strategy 2016-2026 being delivered through Community Midwifery Integrated Services.
In the run-up to International Day of the Midwife this Thursday, staff at UMHL have been reflecting on their profession.
Aimee Kavanagh, Staff Midwife at UMHL, said: "I feel very privileged to be part of such a momentous time in the lives of families, and also to work with amazing people in an environment where I am learning every single day."
Her colleague, Staff Midwife Abby Dempsey, said: "Being a midwife means being entrusted with caring for women during the most vulnerable time of their lives. There is no greater, or more noble, occupation than choosing to be with a woman at this most important time; to give of yourself entirely as you support and watch over them with open eyes and an open heart. Being a midwife means being with women, now and always."
Director of Midwifery at UL Hospitals Group, Eileen Ronan, said: "A midwife is central to preparing women and their families for the delivery of their new baby, and is a vital presence during all stages of pregnancy, labour and the early postnatal period. As a career, midwifery is diverse and progressive, with options available in clinical, management, education and research roles. Throughout their training, midwives can gain experience and skills across different specialist areas, such as neonatal, theatre, Perinatal Mental health, community Midwifery Integrated services and home births."
"Midwifery services are increasingly moving from the hospital to the community. This evolving role has given rise to many opportunities for midwives to develop as professional in clinical specialist roles and Advanced Midwifery Practitioners (RAMPs). Midwifery as a career is very rewarding, dynamic and self-fulfilling, and we would encourage students thinking about their career options to consider midwifery."
Ms Ronan, emphasised that throughout the COVID-19 pandemic, even with social and physical distancing measures, normal service at UMHL has been largely uninterrupted, apart from visiting restrictions. "No-one can minimise the impact those restrictions have had on women using our services, their partners and loved ones. The restrictions run counter to the spirit of joy and happiness traditionally associated with pregnancy and the arrival of new-born babies, and we are delighted to be in a position where we can safely provide access for nominated partners, allowing parents and their newborn infants closer contact at this most important time in their lives."
She concluded: "It's appropriate that this year in particular, we use the platform of International Day of the Midwife not just to celebrate our successes and the importance of midwifery, but also to remind women of the midwifery care and services that are ever-present at UMHL throughout the extraordinary times we're living through as a result of COVID-19."