UHL Medical Social Workers to fore of regional campaign to eliminate violence against women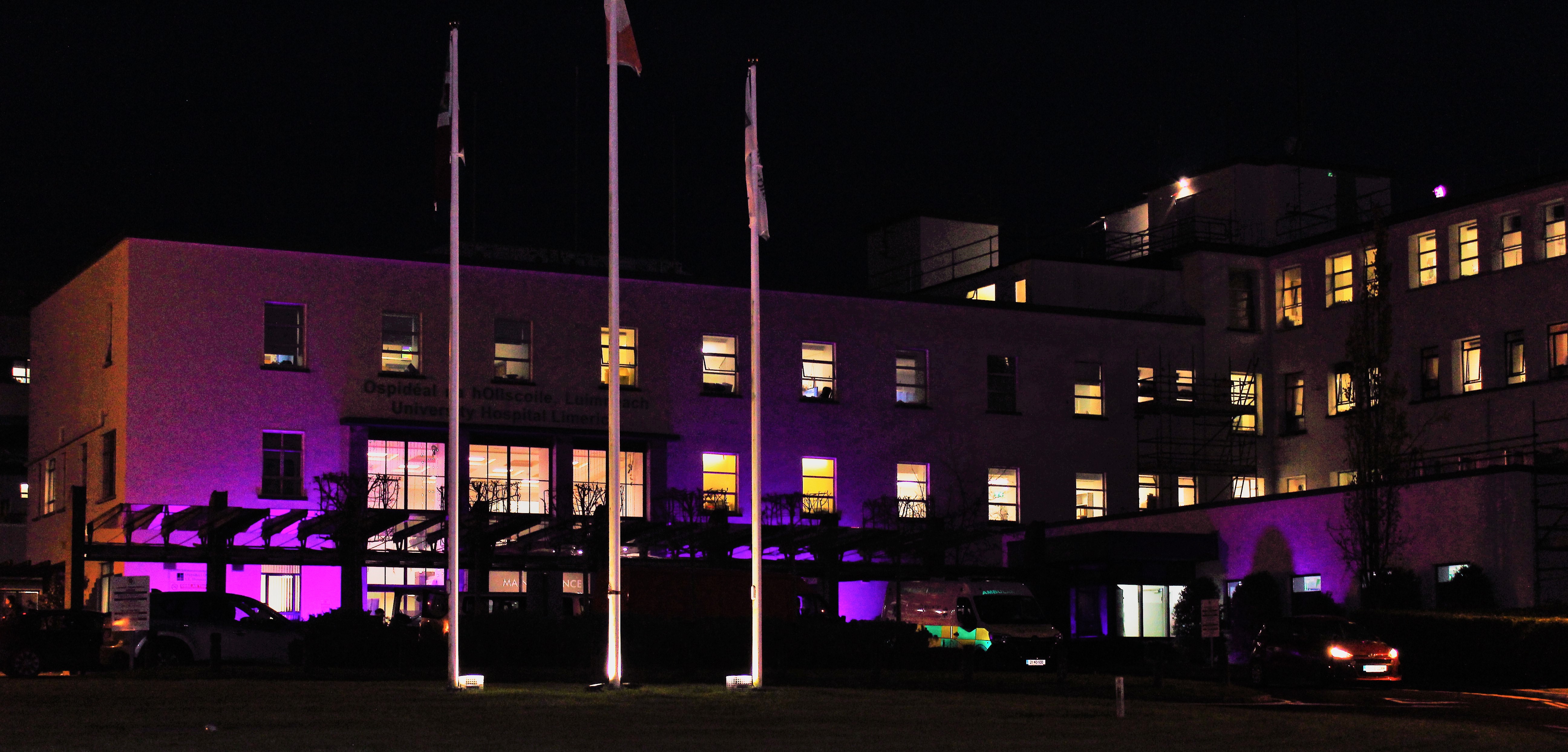 28th NOVEMBER, 2022 | UL Hospitals Group stepped up its annual involvement in the global 16 Days of Action campaign opposing violence against women and children, by hosting the campaign's first 'in person' information event at our hospitals since the pandemic.
Working with local An Garda Síochána and Midwest aid agencies, Adapt House, Clare Haven and Ascend Services, the Medical Social Work team at University Hospital Limerick (UHL) hosted a two-hour information event in the hospital's Clinical & Education Research Centre (CERC) on Monday November 28th, focused on human trafficking, female genital mutilation (FMG) and domestic violence.
The aim of the UHL event was to highlight violence against women—and to assist healthcare workers, in hospitals and throughout the community, in recognising the tell-tale signs—with a particular focus this year on human trafficking, female genital mutilation (FMG) and domestic violence.
The UHL event is one of a number of activities organised locally to raise awareness of domestic, sexual and gender-based violence, in support of Women's Aid's international 16 Days of Action campaign, running from November 25th to December 10th.
UHL's main façade was symbolically illuminated in purple light on the evening of Friday November 25, the first of the 16 Days of Action, also coinciding with the UN Day for the Elimination of Violence Against Women. The special lighting effect will remain in place at night-time for the entirety of the 16 days campaign.
The information event was attended by a diverse network of representatives of healthcare providers, including UL Hospitals Group COO Noreen Spillane, and State and voluntary support agencies. They heard from keynote speaker, Garda Detective Inspector Daniel Kelly about his role in prosecuting the first case of FGM in Ireland, and his ongoing work in investigating human trafficking and organised prostitution with the Garda National Protective Services Bureau.
Limerick-based officers, Detective Inspector Marianne Cusack, Detective Sergeant Mick Lambe and Sergeant Louise English, spoke about their work with the Divisional Child Protection and Domestic Violence Units. They also talked about the success in this region of Operation Sabhailte, through which gardaí contact and support victims of domestic violence, as well as enforcing court orders and prosecuting offenders.
Anne Hegarty, Head of Medical Social Work Services with UL Hospitals Group, and a lead organiser of the 16 Days of Action campaign in the Midwest said: "The 16 Days of Action campaign creates space to remember those who have lost their lives to violence, and also highlight the work that's ongoing to help prevent future tragedies."
"Detective Inspector Kelly's presentation today truly shone a light on a very specific aspect of violence against women and children, and the local officers who highlighted the work being done in the Midwest provided fascinating and very encouraging insights into garda efforts to eliminate violence against women through Operation Sabhailte," Anne added.
Domestic abuse can occur in many forms, including: Physical, Sexual, Emotional, Psychological, Financial and Coercive Control. Domestic violence typically involves a current or ex-partner, and can take place regardless of a person's gender or sexuality.
If you or someone you know needs any support, you can attend the Emergency Department at UHL, the Maternity Emergency Unit at University Maternity Hospital Limerick (UMHL), contact the UL Hospitals Group Medical Social Work team on 061-482467 or 061-482965, or call the following agencies:
ADAPT: 1800 200504
Clare Haven: 065 6822435
Ascend: 0505 23999
Women's Aid: 1800 341900
Rape Crisis: 061-311511
Gardai: 999