Innovations in Surgery 'Improving Care for Breast Cancer Patients in the MidWest'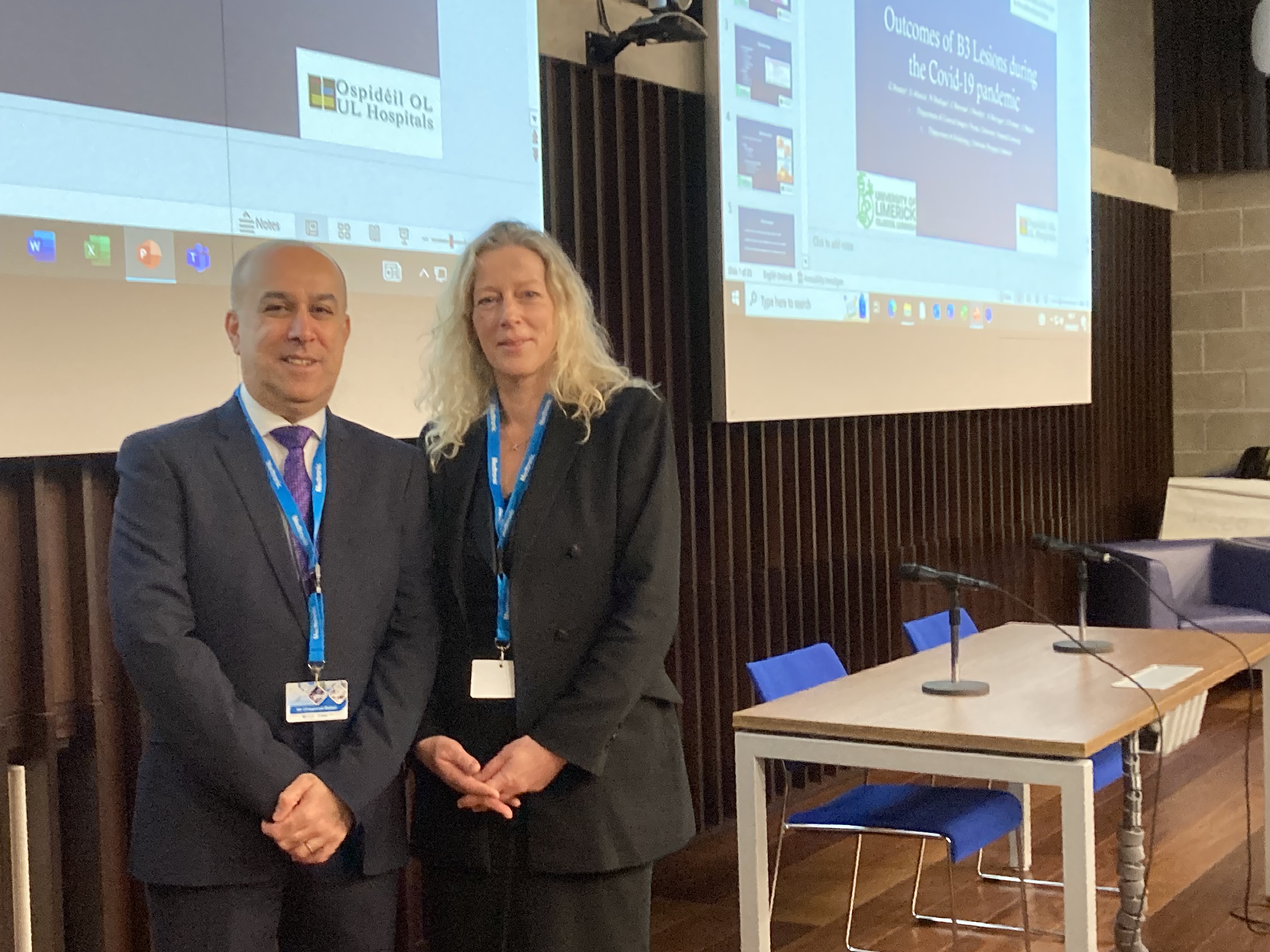 Five hundred attend annual Sylvester O'Halloran Perioperative Symposium in Limerick
Magseed device introduced in Breast Unit improving patient experience, consultant surgeon Chwanrow Baban tells conference
Patients 'must not hesitate to reach out for help' where there is a cancer concern
(LIMERICK 06.03.2022): CLINICAL innovation at the Symptomatic Breast Unit at University Hospital Limerick is improving patient outcomes and quality-of-life, consultant surgeon Mr Chwanrow Baban has told one of Ireland's largest medical conferences.
Mr Baban, Consultant General and Oncoloplastic Breast Surgeon, UL Hospitals Group and Senior Lecturer in Surgery at the UL School of Medicine, was a keynote speaker at the annual Sylvester O'Halloran Perioperative Symposium. After several Covid-interrupted years during which it moved online, Ireland's largest perioperative meeting was again held face-to-face over three days at the University of Limerick and UHL.
Delivering the keynote Sir Thomas Myles Lecture on "My Journey in Surgery and Innovation", Mr Baban spoke of his longstanding research interests, including the standard of care for older breast cancer patients and exploring the relationship between bacteria and tumours.
"Over many years, our work has looked at how we can use bacteria as a vector in cancer gene therapy; how we can exploit bacteria for good. We routinely talk about good bacteria, whether that it taking probiotics and so on, and what our experiments have explored is using good healthy bacteria as vectors to transport medicine to target cancer cells." Mr Baban explained ahead of his lecture.
"We know that the centre of cancer anywhere in the body is necrotic, or deprived of oxygen, and we know too that we these are exactly the kinds of places that bacteria like. We have demonstrated in animal experiments that bacteria can be used to target cancers but of course the challenge is making it a reality for our patients. Research work is very slow and it can take 20 or 30 years to translate something exciting like this from the benchside to the bedside," Mr Baban said.
More immediately, patients in the breast service Limerick were already benefiting through the introduction of new technology by Mr Baban and his colleagues.
In the last year, the Limerick service has introduced the magseed device for women who need a lump removed from their breast. This magnetic bead, which is approximately the size of a grain of rice, replaces the need to insert a wire to assist surgeons in locating a lump.
"In the past," Mr Baban explained, "where a patient came in with a lump that was not palpable, we needed to attach a wire to remove the cancer area. This was very stressful for women who were required to come in on the morning of surgery, to do the necessary paperwork, to be informed about the surgery, to travel through the hospital to the radiology department, to have a wire inserted and be advised not to interfere with or lose it or else the surgeon would not be able to remove the lump, to travel back through the hospital to theatre and so on."
"With the magseed, all that stress has now been eliminated. The patient can come in a week, a month or several months before the surgery. We can put the 2mm seed in to the cancer area and it will stay there until the patient comes in to theatre without the stress of all the other intermediary steps. And of course, apart from reducing stress there is also a reduced risk of infection and other complications," Mr Baban said.
The Symptomatic Breast Unit at UHL was also hoping to pioneer the use in Ireland of 3-D printed prosthesis for patients who have had a mastectomy and who choose not to or are not suited for breast reconstruction. Mr Baban is hopeful that this next innovation in the service will significantly improve the quality of life for patients who have had radical breast surgery.
"I am glad to work in a service that is innovating for our patients, that is improving quality of life and patient outcomes. As doctors we were very conscious during Covid of the fears patients had in accessing healthcare. We continued to run our service in Limerick right throughout Covid; our cancer diagnostics were running and our theatres were open to cancer patients.
"As we come out of the pandemic, there is an assumption that UHL is always chock-a-block - and it is a busy hospital. But from the point-of-view of the breast service, we want to reassure people that if you have a concern, if you have a family history, if you have found a lump, please don't hesitate to reach out."
"We have modern facilities with access to tomosynthesis, or a 3D mammogram, reconstruction, implants, and the newest technologies like the magseed. We are here for you," Mr Baban said.
Other keynote speakers at this year's Sylvester O'Halloran Symposium included:
Prof Stewart Walsh, Professor of Vascular Surgery, NUI Galway and Galway University Hospitals, "Building Irish Surgical Trials Capacity" Professor Walsh delivered the annual Paul O'Byrne Lecture, in memory of the late Paul O'Byrne.
Prof Cathal Kelly, CEO, Royal College of Surgeons in Ireland, "Innovation to Better Healthcare" Professor Kelly delivered the prestigious Sylvester O'Halloran Lecture.
From its beginnings in 1992, the annual Sylvester O'Halloran meeting has developed into one of the most anticipated such events in Ireland and, increasingly, internationally. The symposium has been previously posted on some of the leading surgical websites around the world, including the American College of Surgeons.
Approximately 500 attendees, including nursing, anaeasthesia, surgeons, surgical trainees and numerous other healthcare professionals from all over Ireland and abroad, attended over three days for this year's event.
The Sylvester O'Halloran Perioperative Symposium 2023 is collaboratively hosted by the departments of surgery, anaesthesia, nursing, ENT, urology, gynaecology and orthopaedics, in conjunction with the Perioperative Directorate at UL Hospitals Group and the School of Medicine, University of Limerick.
Sessions took place on anaesthesia and critical care as well as specialties including breast, colorectal, orthopaedics and head and neck. Masterclasses took place on nursing and vascular surgery as well as lectures on robotic surgery.
There are several awards for presenters which include the prestigious Sylvester O'Halloran Prize and O'Shaughnessy Prize in Anaesthetics.