Early Careers Fair positions healthcare as life-changing career option for secondary students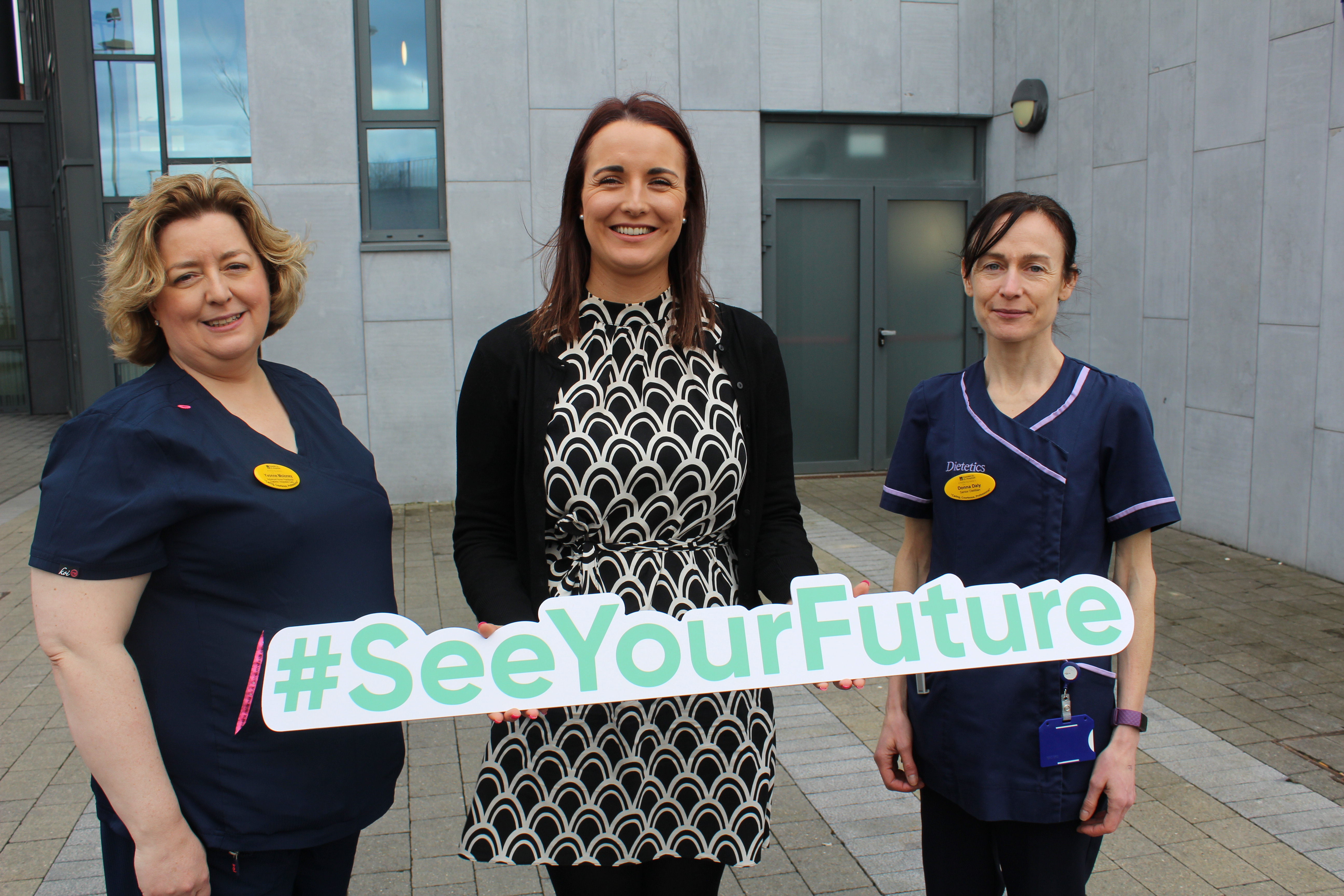 10th MARCH, 2023 ¦ A VIRTUAL nationwide audience of thousands of secondary students logged on to one of Ireland's largest healthcare careers events last Tuesday, as the Junior Health Sciences Academy opened its annual virtual Early Careers Fair for Transition Year and Fifth Year school-goers.
Hosted by the Health Sciences Academy (HSA), with Limerick and Clare Education & Training Board and Limerick Education & Support Centre (LESC), the half-day event was open to pupils in all secondary schools all over the country.
The HSA is a partnership of University of Limerick (UL), UL Hospitals Group (ULHG), and HSE Mid West Community Healthcare (MWCH), and the Junior Health Sciences Academy is a key element of this partnership. It supports students in early careers, health promotion and leadership, fulfilling the shared aim of nurturing and improving the health and wellbeing of the people of this region.
There was something for all interests, with staff, leaders, and students from the three HSA partner organisations, including doctors, nurses and midwives, paramedics and allied health professionals, delivering presentations and answering students' questions about the huge sweep of healthcare specialties in the Midwest.
Students from the University of Limerick were also in attendance to share insights and advice about university life and the various health sciences programmes at UL, including nursing, midwifery, medicine, physiotherapy, occupational therapy, speech and language therapy, human nutrition and dietetics, psychology and paramedic studies.
Positive mental health, resilience, career choice and wellbeing underpinned the contributions of the guest speakers at the event, which was opened by Limerick-based Spin South West presenter, Valerie Wheeler who told the students: "I wish I'd had an event like this when I was at school because for years I didn't know what I wanted to do. I firstly worked in childcare and after a very long road ended up in the world of media. You have plenty of time to figure these things out, and with events like this it should make your choices that bit easier."
Student feedback was very positive on the contributions of the special guests for the 'fireside chats'. These included Katie O'Brien, a para-rower, World Rowing Gold Medallist and 2024 Paralympics hopeful; and Jack Kavanagh, who has challenged the perceived limitations arising from a life-changing spinal cord injury in 2012 to excel academically and become a pharmacist, acclaimed speaker, podcaster, facilitator and advocate who in 2019 was named one of JCI Ireland's 'Ten Outstanding Young Persons of the Year'.
Katie O'Brien, who is also a qualified vet (with that aspect of her career on pause as she works towards the 2024 Paralympics), was born with spina bifida, and recalled how her early years were dominated with interactions with a huge range of healthcare professionals. Having undergone multiple surgeries on her back and left leg, Katie walks with the aid of a splint, and since taking up rowing has won bronze at the 2019 World Rowing Championships in Linz; finished sixth in the A Final in the 2013 World Rowing Cup; won gold at the Henley Women's Regatta and at the Home International Regatta; made history by forming Ireland's first competitive para-rowing crew alongside Roscommon man Steven McGowan. She finally won gold at the World Rowing Championships in the Czech Republic in 2022. Reflecting on her achievements and her life journey, Katie spoke about her mixture of inner drive and pragmatism in achieving goals.
"My drive comes from within. I've always loved to do well at things and work hard, and see the results. This can be compared to study. I think we all know the feel-good factor from doing well after you've studied hard for and exam. Then there are the really hard days. In training, it will be a rainy day when things are cold and wet and miserable, and you just have to say to yourself, 'If I can get something done today, I will be happy.' It's the same with study. If you don't feel like doing eight to 10 hours of study, it's important to do even 20 minutes of focussed work and get something done, rather than sit here feeling miserable," she said.
Katie highlighted the importance of kindness to others. "You're all going through a stressful time, and while you have your mum and dad behind you, and your teachers, it's still stressful. And people might have problems on the inside, like stress, depression, anxiety, or a health issue. Everybody's dealing with something, and you don't know who is struggling on any given day, so kindness is really important."
Jack Kavanagh echoed these sentiments. In 2012, just as he had finally found the university course to pursue his dream of working in healthcare, Jack suffered a spinal cord injury that left him with 15% muscle function. In the years since, he has taken his academic study to postgraduate level and become a pharmacist, has delivered an acclaimed TEDx Talk ('Fearless Like A Child') and received a number of international award for his documentary 'Breaking Boundaries'. He is a passionate advocate for health and wellbeing as the engine for success in business, as well as cultivating diverse, inclusive environments where people belong and are valued.
Speaking to the students, Jack evoked the image of a fully functioning heartrate monitor to illustrate the way that life works: "If the monitor goes in a flat, straight line, it's not good news. The heartbeat goes up and down, across the screen. Everyone who's watching this, you will have high points, low points, setbacks, sad times, bad times. But the constant is the heartbeat, which is life, and it's all about how you meet those times. When you come through them, you'll realise you're more adaptable and creative in the face of challenge than you give yourself credit for."
To conclude, Jack recalled a day when, as he drove away from his family home, his father called out, "Impress yourself today, Jack!" And it certainly made me think. The odds of any one of us being born is one in four-hundred-trillion. Everyone at this event today was born with a unique set of skills, talents, strengths and weaknesses. We've all spent time, as teenagers especially, comparing ourselves to others. So I would say, spend a little more time impressing yourself, rather than others. Think about how would you show up, what way you would treat yourself and others, if you set out to impress yourself."
Miriam McCarthy, Health Sciences Academy Manager, said the secret of the event's success was in how well it demonstrated the variety of career options in healthcare, as well as its ability to resonate emotionally with all young people approaching the most significant crossroads of their formative years.
She said: "As ever, colleagues from across the professional healthcare spectrum in UL Hospitals Group and Mid West Community Healthcare brilliantly conveyed their 'day in the life', on-the-job insights as healthcare workers. The UL students were inspirational as they discussed finding the right programme of study for them, whether as an undergraduate directly from school or as a Master's postgraduate student. They spoke so passionately about their lives as students of health sciences and business in UL, and it was clear that they all thoroughly enjoy their chosen career paths. The guests for our 'fireside chats' were equally inspiring, and at times electrifying, with their insights into that most significant time in a young person's life; when you face and make big decisions; how these aren't always the right decisions; how you can be deviated off course; and how adversity can be overcome as you move towards and into the world of higher education."
This year, the organisers added a new section on 'business in health' with the Hospitals Group's Director of HR and Operational Services Manager, as well as business students from UL, talking about their roles. This enhanced the richness to the event, demonstrating the diversity of career options in healthcare outside of frontline care.
Ms McCarthy added: "Both Katie O'Brien and Jack Kavanagh were exceptional speakers, and made a huge impact on the students. They each underlined the importance of being kind to others at this stage in life's journey. Jack's reference to his dad's remark—"Impress yourself today, Jack!"—was a lesson we can all learn from, older teenagers in particular: to focus on being your best self rather than comparing yourself to others. If our early feedback is any indication, those two speakers vividly demonstrated the rewards of a career in healthcare and of the importance of persevering through challenges that beset everyone as they move through and beyond the worlds of education and into the workplace."