The Integrated Community eHealth and ICT Programme delivers and oversees agreed priorities and investment for community ICT infrastructure and solutions. This will improve the experience of service users and the effectiveness of our frontline services. The Community Digital Oversight Group (CDOG) supports the strategic and operational delivery of this programme.
To ensure an integrated approach across the organisation to eHealth and ICT implementation, CDOG works closely with colleagues from Acute Services and eHealth and Disruptive Technologies (eHealth).
CDOG representation includes:
Operations
Strategy and Planning/Innovation and Change
Clinical
eHealth and Disruptive Technologies
Acute Services
Department of Health
Programme goals
Outline the vision for community ICT over a defined period, guiding a whole-system approach to community clinical and operational ICT developments. This is done by producing evidence-based requirements and priorities for relevant decision makers.
Ensure decision making is coordinated and managed when delivering ICT solutions for community services.
Oversee the development of eHealth solutions to support health care provision across community operations. This includes a community case management system, digital therapeutics and specialist ICT solutions.
Ensure integration with other health care providers systems, for example, general practitioners and acute hospitals systems.
Current priorities
This is a crucial foundation and key development for community services which will support:
improved service user care and experience such as referral management, appointment scheduling, triage and waiting list management
case management and integrated working
workload and team management
operational management and strategic decision making
Progress so far
Similar previous work has been assessed such as Community Electronic Health Record, Primary Care Management System. Previous requirements identified have been mapped against initial current requirements.
Key process steps have been identified across all community care groups specific to recording and managing processes and this includes:

referrals
triage
appointment scheduling
waiting list management
care provision, navigation and reviews
discharge or onward referrals

Completed a high level specification document and approval has been granted to proceed to the programme's 'assess' phase. This phase will include:

identifying the chosen technology to support ICCMS
establishing programme governance and the mandatory work streams to support development of the functional requirements for community services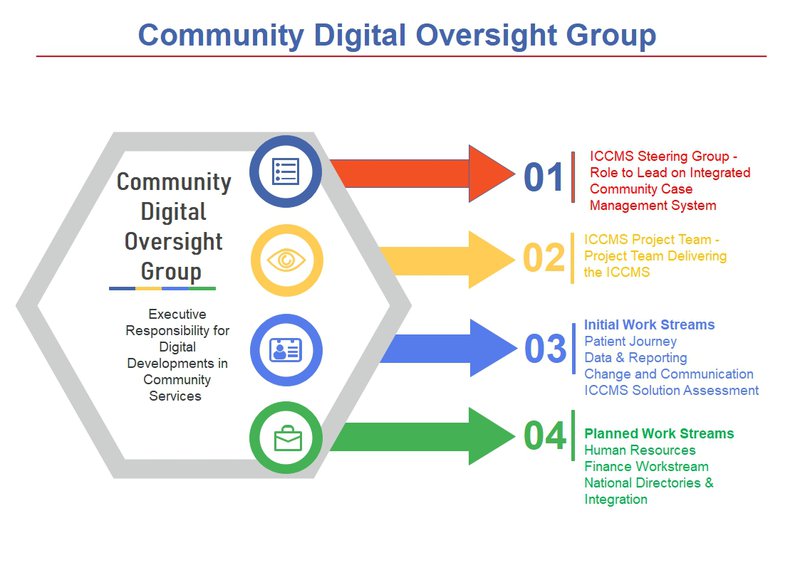 How to submit a new proposal
Requests for new ICT solutions in community services can be submitted to the Community Digital Oversight Group for consideration. Please note in advance of submitting requests for new ICT solutions, approval must be granted by the CHO Head of Service and Chief Officer.
Complete the proposal mandate template and submit to communitydigitalhealth@hse.ie