Published: 4 August 2021
"We can't encourage women to breastfeed and not be there for them when they need help. And that is even more true during such a difficult period as the COVID-19 pandemic," insists lactation consultant Claire Fitzpatrick.
This week is World Breastfeeding Week. National Breastfeeding week is 1-7 October with this year's theme 'Feeding the future: Supporting breastfeeding through a pandemic and beyond'.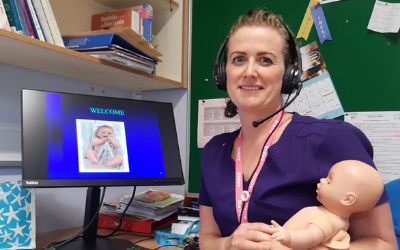 Claire and her colleagues in the lactation department of Midland Regional Hospital Portlaoise (MRHP) have had to innovate and evolve over the last 18 months, as COVID-19 restrictions made their traditional way of delivering education and support to breastfeeding mums all but impossible.
"We needed to reflect, refocus and renew our approach to providing safe antenatal education on breastfeeding to women. It was incredibly important to find new ways to engage in order to impart knowledge and support women," she explains.
Traditionally, women attended face-to-face breastfeeding education classes at MRHP, which had been held fortnightly. Due to COVID-19, breastfeeding and antenatal classes were cancelled.
"The lactation department at MRHP adapted and changed the education pathway to meet the needs of women in a different way. Education needed to be delivered remotely in an efficient, accessible and convenient format," says Claire.
Despite COVID-19 restrictions, if a mum has an urgent problem, they continue to have access to a face-to-face consultation.
Technology has played a massive role in fixing the lines of communication that were broken by the restrictions on face-to-face classes.
A laptop and smartphone were secured to allow ease of access to email in order to promptly reply to women. The lactation.mrhp@hse.ie email was generated to allow women to email the service directly.
"The lactation department is contactable and available for phone consultations should a woman need individual support in the antenatal period when preparing to breastfeed. And our mums can send me an email or WhatsApp message whenever they have a problem or a question," says Claire.

"In one way, the pandemic has made us more accessible to the mums when they need us. Previously a mum might have a query but she only got to see the lactation team at one of our breastfeeding groups. Now they have a direct line to us and can get an answer to their question almost straight away."
Women who contacted the service were automatically sent an information email with links to useful breastfeeding sites and videos to read and watch in the antenatal period.
A weekly 'Preparing to Breastfeed' class was commenced via Webex in early May 2020. A survey was sent to all women who attended the virtual class and the feedback was extremely positive. 100% of women surveyed said they would recommend the workshop to a friend and found the technology easy to use.
"It was a fantastic session and really helpful. Obviously would have prepared to have a face-to-face sessions but given the current restrictions, it was really good," said one mum-to-be.

Another said, "I learned loads. I now feel much more comfortable leading up to the start of my breastfeeding journey."
Claire highlights the importance of the role of the lactation team – it was confirmed in May that there would be a doubling of hospital lactation consultant posts - she says that it is also vital to continue to train staff on the wards.
"The lactation consultants can't be around 24 hours a day so it is important that the breastfeeding advice is consistent and that everyone is on the same page. We have a quick turnaround in doctors in obstetrics and paediatrics so we want them to have access to the most up-to-date information regarding breastfeeding," she says.

 "If women go home breastfeeding having gotten over the first few days and have a contact point for support, they are much more likely to continue. If they choose to breastfeed it is because they really want to. The system must ensure that it does not let them down.

"And when more women successfully breastfeed, they pass on that expertise to their sisters, their cousins, their nieces, and the breastfeeding rate in society will naturally increase. The key is giving them support through our lactation teams."
She points to the case of one mum whose baby had difficulty with breastfeeding and was eventually diagnosed with a cardiac condition and had surgery in Crumlin. Thanks to the constant support of Claire and her team and access to their loan pump system; that mum was able to pump breast milk for her ill baby and is still continuing to breastfeed six months on.
"It was such a difficult time for that mum but she felt completely supported and was able to continue her breastfeeding journey," she says.
Claire insists that the pandemic has helped to evolve and improve the lactation service for the mums of the locality.
"There can be no doubt that the pandemic has been extremely stressful for us all but it has also been a thoroughly enjoyable learning experience. The women using the service now have easier access to the lactation consultant should they need breastfeeding support. The feedback from the classes is very positive. Women obtain more information via this platform," she says.

"Going forward, post-COVID-19, the lactation department envisage a service where an in-person antenatal breastfeeding education class is offered alongside a virtual class to women who prefer this option. The department will continue to use the lactation.mrhp@hse.ie email and advance the services along with the technology available whole striving to continue offering a personal, women-centred, individual approach to antenatal breastfeeding education."