Published: 26 November 2021
The HSE made an 'urgent call' to the 8% of the adult population who remain unvaccinated to come forward for their COVID-19 shots.
HSE CEO Paul Reid said there was a range of activities being used to try to reach out to groups who have not been vaccinated.
"I was in a vaccination centre in Cavan last week, where they had a remote pop-up in Ballyjamesduff which was quite successful in trying to attract people in over the weekend that had yet to have a vaccine. Very positively, we are again seeing many people coming in for their first dose and that is very encouraging," he said.
He also welcomed the decision by the European Medicines Agency (EMA) to approve the Pfizer vaccine for use in children aged between five and 11 years. There are approximately 480,000 children in that age group in the State.
Vaccinations of this group could begin from the end of December if the rollout is given the go-ahead by the National Immunisation Advisory Committee (NIAC).
Chief Clinical Officer Dr Colm Henry said that vaccination is giving protection to many people and said there was a 'strong correlation' between the high levels of vaccination and low levels of COVID-19 deaths.
"Vaccine rates in Ireland are the highest in Europe and that is giving us a great floodwall of defence against COVID. As difficult as things might be at the moment, that gives us reason to be hopeful," he said.
HSE Vaccination Lead Damian McCallion outlined the progress in the booster programme, which has begun holding walk-in clinics for healthcare workers and those aged in their 60s.
 156,000 of the 305,000 healthcare workers nationwide have already received a booster jab.
Almost three-quarters of the immunocompromised group of approximately 100,000 people have been given a third vaccine dose.
People in long-term residential care are nearly fully vaccinated with their booster dose. The only gap in the numbers is due to vaccinators having to return to facilities, as people were not in a position to be vaccinated during the earlier schedule.
The vast majority of the over-80s have had their booster shot too.
Two-thirds of people in the 70-79 age group have received their booster and it is expected that they will all be vaccinated or have an appointment by early December.
A relatively small number of 60-69-year-olds have received their booster because that age group has recently become eligible for the third dose.
The 50-59 years age group is expected to begin in mid-December.
The HSE Vaccination Lead also noted that the age groups will be able to be vaccinated in parallel, unlike the initial vaccines which were completed in an age group by age group manner. They will largely be done in vaccination centres, as well as in GP surgeries and pharmacies, followed by walk-in clinics for the eligible.
Meanwhile, when 100-year-old Maureen Dowley arrived at her local HSE COVID-19 Vaccination Centre in Kilkenny this week, she was given a pleasant surprise.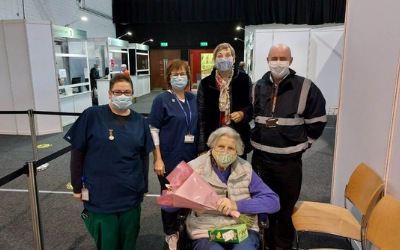 Maureen and her daughter Yvonne O'Dwyer were at the facility in the Cillín Hill Event Centre for appointments to receive their booster vaccine. Maureen was greeted at the door by HSE/South East Community Healthcare Site Operations Manager for the Kilkenny Vaccination Centre Patricia McQuillan, along with security officer John Curran and vaccinating team member Heather Woods.
Upon being presented with flowers and chocolates, Maureen was wheeled to booth #10 to receive her booster vaccine from Heather. Along the way, all present at the Kilkenny Centre afforded Maureen a standing ovation.
Born in September 1921, Maureen was 99 when she received her first COVID-19 vaccine earlier this year. Maureen said everyone should take up the opportunity to be vaccinated and to subsequently avail of the booster if it is offered to them.