Published: 29 September 2021
Join the HSE QUIT Team's 28 day stop smoking challenge #TheLastStop
The HSE Quit Team is encouraging staff who smoke to take the 28 day stop smoking challenge and quit for the month of October. If you quit smoking for 28 days, you are 5 times more likely to quit for good.  If you or a loved one smokes and wants to quit, this is the perfect time to do it.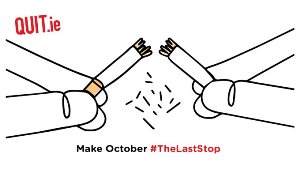 Help and support
The Quit Team provides personalised, free support by phone, in-person, by email, SMS and live chat that will double your chances of making a successful quit attempt. If you have tried to quit in the past and not succeeded, try again but don't go it alone. This makes it harder to succeed. The best thing you can to increase your chances of success is to get help and the Quit Team is there to help you every step of the way.
They provide free, non-judgemental, practical help, designed to fit each person's lifestyle. Our stop smoking advisors are ready to coach anyone who wants to quit. You can choose to get support over the phone, by email, text or a combination. You can also choose to meet with a stop smoking advisor face to face or join a group of people trying to quit together. The Quit Team can send you a Quit Kit which lots of tools to help you quit. Check with your manager and/or local Healthy Ireland representative. Some CHOs and Hospital groups are offering free or reduced cost nicotine replacement therapies to help you over the initial 6 or 8 weeks.
Free stop smoking medication for HSE staff to help quit smoking
You, as a HSE staff member, can avail of free stop smoking medications to help you to quit. The HSE Health and Wellbeing initiative allows staff to access a free GP visit and a prescription for a drug called Champix and/or combination nicotine replacement therapy as part of a recommended 12 week treatment period. Find out more about accessing free stop smoking medication
Dealing with cravings
Cravings, which are strongest early in the quit attempt, can be a common reason that people slip up. Getting tools and tips to deal with cravings, and practical advice about how to use Nicotine Replacement Therapies like gum or patches can really help. Even if you've used NRT products in the past don't be afraid to try it again. You may not have been using the product correctly or enough of it the first time. Don't be afraid that you are 'feeding the nicotine' addiction. The nicotine in these medications is a much smaller dose and designed to be just enough to curb the negative withdrawal symptoms and is reduced over a 3 month period. The Quit Team can talk you through all the different options.
Support a loved one
As friends and family we can support the people who smoke in our lives to quit. Quitting can be hard and having the support of friends, family and colleagues can make a big difference. There is lots of information on Quit.ie about how you can support someone in your life to quit.
Sign up for a Free Quit plan today:
Get the support you need to quit smoking. Freephone the Quitline on 1800 201 203 or sign up for your free quit plan.
Read personal stories to help inspire you to quit smoking visit www.quit.ie. The website has lots of other tools and resources to
Peer-to-peer support is available on the QUIT Facebook Page www.facebook.com/HSEQUIT or on Twitter https://twitter.com/HSEQuitTeam. Use the hashtags #TheLastStop #28DayChallenge