Published: 23 June 2021
Children's Health Ireland (CHI) have launched their HSE Rainbow Badge, an initiative that aims to make a positive difference by promoting a message of inclusion.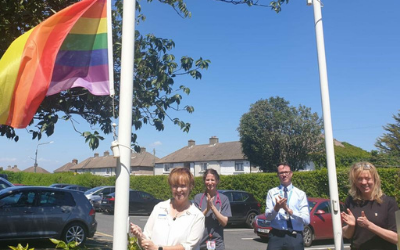 The Rainbow Badge, unveiled as the annual Dublin Pride festival is being celebrated, gives staff a way to show that their place of work offers open, non-judgmental and inclusive care for children, young people, families and staff who identify as LGBTI+ (lesbian, gay, bisexual, transgender, intersex; the + simply means inclusive of all identities, regardless of how people define themselves).
CEO Paul Reid voiced his praise for the initiative, "We are committed to creating a positive working environment for all staff. I am constantly blown away by the compassion, care and resilience of the staff in our health service and as an organisation I feel it's critical that we show our staff compassion through our inclusive actions. This rainbow badge initiative is a great example of the great compassion and care shown everyday by our staff. 

All employees inclusive of race, religion, ethnicity, gender, sexual orientation, responsibilities for dependents, age, disability, and geographic location should feel respected, valued and supported to reach their full potential. 

When we value the role that everyone plays, we deliver a better service for our patients and continue our goal to build the trust and confidence of our key stakeholders including the public, government and staff."
LGBTI+ young people are often exploring their own sense of self and identity. Despite improving social attitudes in general towards LGBTI+ people in Ireland, negative attitudes, such as homophobia, biphobia, transphobia, are still widely prevalent.
Mental health issues such as depression and anxiety are more common in young people who identify as LGBTI+, with figures showing that more than half of Irish LGBTI+ young people self-harm; two in three seriously consider suicide; and tragically one in three have attempted suicide. Many young people still feel afraid to disclose their sexual or gender identity and to 'come out' – being unable to do so limits our ability in providing the medical care they need.
Welcoming the launch of this initiative, Eilísh Hardiman, Chief Executive, CHI, explained that simple visible symbols, such as the Rainbow Badge can make a big difference for those unsure of both themselves and the reception they may receive if they disclose their sexuality and/or gender identity.
"Many young LGBTI+ people say they do not have an adult they can turn to or confide in. As advocates, staff who work in across CHI can play a key role in making things better," she said.
Dani Hall, Consultant in Paediatric Emergency Medicine, CHI, and the Rainbow Badge Lead, said, "Visibility still matters; this badge shows that our staff are here to listen and help LGBTI+ young people and families. But the model is more than just the badge; it's a model that emphasises the substance behind the symbol, with the emphasis on education for staff, responsibility and support.

"Wearing a badge is only one step towards overcoming healthcare inequalities but with increasing awareness and education we can start to overcome barriers to healthcare for LGBTI+ young people in Ireland."