Published: 20 October 2021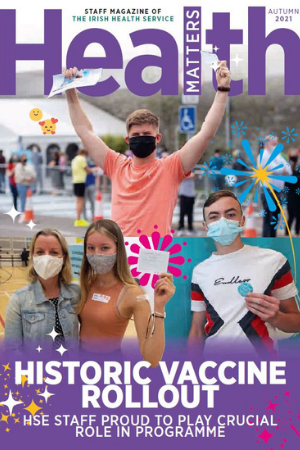 Welcome to the latest edition of Health Matters.
We are not at the end of the COVID-19 pandemic yet but the overwhelming success of the vaccination programme in the last few months has certainly given us all a lot more reason to hope that the worst is behind us. Teens and young adults continued to show their resilience and thoughtfulness as hundreds of thousands of them queued in all weathers outside the vaccination centres to get their shots. They have seen their lives so curtailed over the last 18 months as society came together (metaphorically of course) to protect our most vulnerable. And once again, they played their part with a strong uptake of the vaccine among their age groups.
Some of those young adults shared with us their reasons for getting the COVID-19 vaccine, underlining their eagerness to protect those around them and paving a way back to normality. We have all had reason to be grateful to the sta. of the vaccination centres up and down the country who have played a key role in the smooth delivery of the vaccination programme and shared our joy as each and every one of us gratefully received the jab. From the vaccinators and pharmacists to the administrators and volunteers, some of these hardworking members of the team have shared their own personal satisfaction at being on the frontline as history was made.
On top of an incredibly difficult 18 months of COVID, the health service was, of course, dealt another devastating blow in May when the cyber-attack decimated the delivery of services to patients and service users. We take a behind-the-scenes look at how the HSE handled the crisis and got services back up and running.
As we look towards the winter months, we now hope that the darker days bring brighter times for everyone.
Joanne Weston
Health Matters Editor