Trust is a vital part of how we live our lives. We make trust-based decisions every day, and we give our trust when we believe that a person, an institution or even a process is worthy of it.
Providing health and care services that people can trust and have confidence in is part of the HSE's core purpose.
In the health service, if people feel they can trust us, they are more likely to seek our help at the right time. This includes reporting symptoms, following treatment plans and attending screenings.
In February 2021, we started work to help us understand what trust means to the public, our staff and patients and service users. This has involved a programme of research, consultation and action.
We want to be able to measure public trust in the HSE on an ongoing basis and use the results to make service improvements. With this in mind, we took the following actions:
Commissioned a review of research on trust and healthcare internationally. We also analysed previous research conducted by the HSE
Undertook an online survey of 2,000 representative members of the public and held a series of workshops with staff
Gathered colleagues, patient reps, health leaders and subject matter experts to form a Trust Working Group
The Trust Working Group defined four leading drivers of trust and 25 behaviours and action statements to assess the HSE against
The working group began co-creation of an action plan with teams across the HSE
Research Findings
We are broadly trusted as an institution, but many people are uncertain one way or another.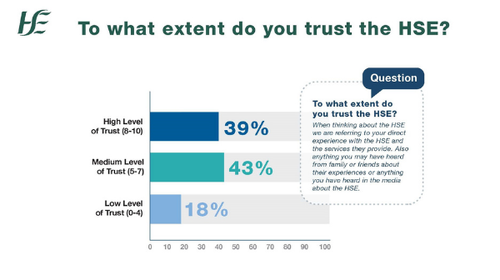 The research found four leading drivers of trust in healthcare services and organisations:
Public good - we should put people first, treat everyone equally and provide good value for money
Respect – we should communicate better, listen more and be inclusive and responsive in our relationships
Integrity – we should be ethical, honest and more open; particularly in owning up to our mistakes
Competence – we should provide high-quality and safe patient care which is reliable and consistent and we should support our staff to fulfil this aim.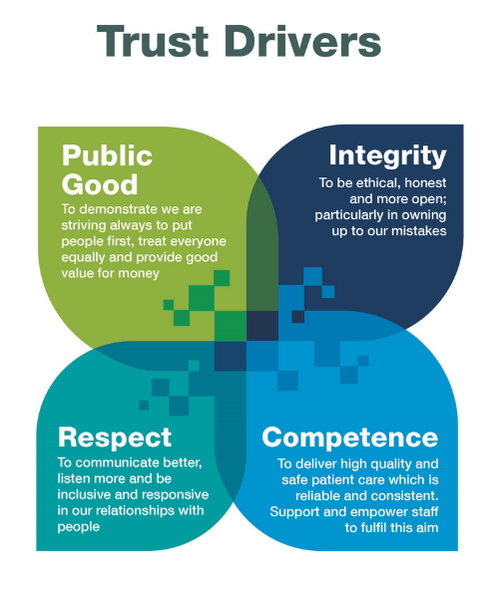 Insights from the public, staff and patient groups
The biggest drivers of trust for the HSE focus on Public Good. This includes the HSE's success in delivering on its core purpose of providing high-quality care for the people of Ireland. 
The greatest area of concern in this area is long waiting lists and access to care. Personal experience also has an impact on trust, with negative past experiences shared by those who have a low level of trust.  
The research highlighted the importance of Respect, of listening and involving people in a systematic way. Taking seriously people's concerns as equals and genuinely involving them in decision-making is a critical factor in earning trust. 
Issues relating to Integrity have a significant impact on whether people trust the HSE. In particular, areas around honesty, admitting responsibility and being open about problems when they happen. There is a keen desire for transparency and a culture of openness in the HSE.
The Competence and commitment of frontline staff in providing a caring and effective service was seen to be an important generator of trust in the HSE. Though there was a significant positive perception that the HSE was delivering against its vision, the bureaucracy and complexity of management was considered to impair effectiveness.
Proposed Actions for 2022
The HSE is committed to using the findings of this research to earn trust and confidence in the organisation. The following actions have been outlined for 2022 and beyond:
Consultation and co-creation
Workshops with staff from across the health service will run in early 2022 to share and explore our findings and listen to suggestions for actions.
We will consider gaps in what we know and the need for further research to improve understanding.
Action Plan
Here are some examples of the actions we have already agreed to implement as part of this programme.
Earning trust through supporting Public Good
The HSE Finance team will show how we protect value and care for public funds. This will include publishing regular public updates on health funding and spending.
The HSE Internal Audit team will share their reports and investigations at regular intervals.
All HSE Board meeting papers and documentation will be published online after each board meeting.
Communicate with the media openly, building trust with the media and the public.
Earning trust through Respect
Improve visibility and leadership for patient and public involvement within the HSE.
Invite and respond to staff feedback.
Listen to experiences of public representatives engaging with the HSE and improve information channels
Earning trust through Integrity
Evaluate and improve openness and disclosure policies.
Earning trust through Competence
Implement the 'People Strategy 2019-2024'.
Hire over 13,000 new staff using the new recruitment model.
Integrate trust into leadership and management. This will include increasing uptake of leadership and management training, including one-to-one coaching and team coaching/interventions.
Acknowledge and celebrate everyday successes. This will include the development of a new peer to peer staff recognition programme.
The work we've done and the evidence we've gathered suggests that to improve levels of trust, the public must have confidence that the HSE will stay true to its values, can fulfil its vision and that all objectives, values and actions are pointed towards the common good.
We know that this work will be challenging and will take time and we've started to take action on our programme of work already. We look forward to working together to protect the public's trust and confidence in the services we provide.
Related content
Understanding trust and the HSE (PDF, 31 pages, 1,846 KB)