Sláintecare Integration Fund (SIF)
The SIF is part of the Sláintecare Action Plan, which aims to deliver a safe health and social care service that meets the needs of our growing population. The SIF has provided €28 million in funding to 123 HSE and Non-Governmental Organisation (NGO) sector projects since 2019.
The SIF has championed collaborative working across the acute, community and NGO sectors. Healthcare staff, working daily with patients on the frontline, have been able to improve care delivered to patients through their SIF projects.
SIF projects have focused on:
Shifting care to the community
Exemplifying best practices for chronic disease management
Care of older people
Empowering individuals to take charge of their own health care
Non-urgent advice:

Overall, these projects resulted in:
15,145 reduced referrals to scheduled care
19,397 acute inpatient bed days avoided
8,112 patients removed from waiting lists
Sláintecare integration fund end of programme report
The SIF end of programme report sets out the notable achievements reported by the 123 projects. The projects tested new ways of working and delivered innovative models of care, bringing care closer to home. Each project placed the patient at the centre of service design and delivery.
Some of the Slaintecare Integration Funded projects
Mater Hospital StrokeLINK service
StrokeLINK is a new Sláintecare funded service run by the Mater Hospital, supporting stroke patients in Dublin North City and County. StrokeLINK specialist nurses connect with patients before they leave hospital and guide them through the discharge process, helping them stay healthier at home for longer and avoid hospital visits. Patients who have used StrokeLINK have praised the new service.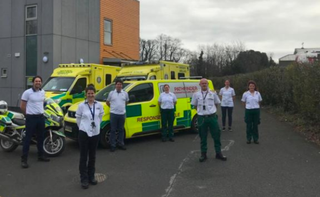 Established in 2021, Pathfinder is a collaborative service between the National Ambulance Service and Beaumont Hospital Occupational Therapy and Physiotherapy Departments. This service is safely keeping a high proportion of older people in their own home rather than transporting them to the Emergency Department for assessment.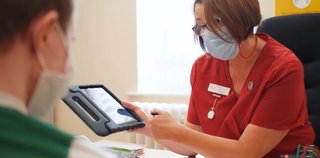 Launched in December 2021, the Health Passport App was funded by The Department of Health through the Sláintecare Integration Fund. The app is designed to support people with intellectual disabilities to communicate and express their specific needs when in a healthcare setting.