The Health Regions Implementation Plan was published on Monday 31 July 2023.
Our health service is being reorganised into 6 HSE health regions. 6 regional executive officer posts have been approved to support this reorganisation.
Health regions will allow us to:
deliver more integrated care closer to patients' homes by bringing hospital and community services together
plan and deliver services around the needs of local populations
improve governance and accountability at all levels
strengthen local decision-making
provide consistent quality of care across the country
Map of the 6 health regions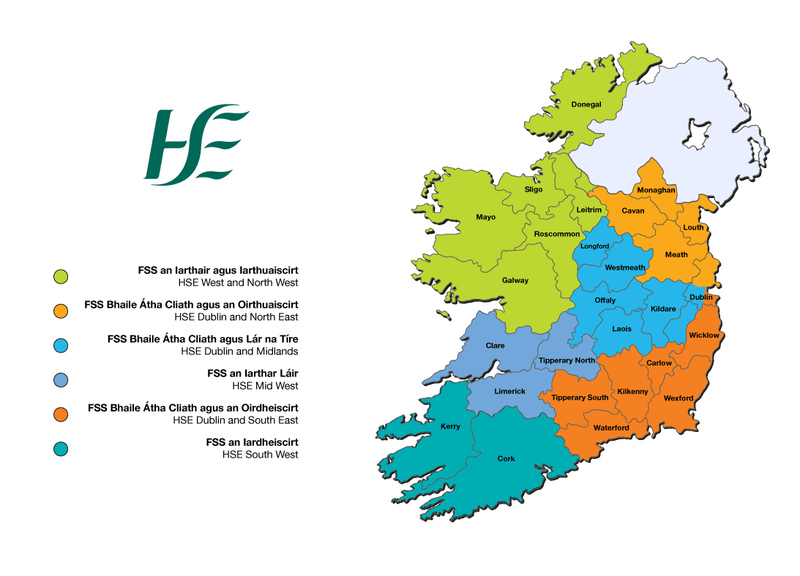 At the moment, we deliver care through 9 Community Healthcare Organisations, 6 Hospital Groups and Children's Health Ireland. They serve populations that are grouped in different ways and managed separately, making it difficult to deliver integrated care. This can lead to a disjointed experience of care for patients and service users.
Health regions will help shape the future of health and social care in this country. They will allow us to deliver safer, better care that is planned and funded in line with local and regional health needs.
The Implementation Plan sets out a high-level programme of work to establish health regions from February 2024. It includes key actions and timelines throughout 2023 and into 2024.
This lines up with the design principles and objectives of Sláintecare.
The key actions for 2023 are grouped into 4 themes:
Leadership, Vision and People
Model of Integrated Care and Healthcare Governance
Planning and Finance
Infrastructure, including Capital, ICT and Supports
Leadership, Vision and People
Health regions will be empowered to develop their own workforce, with support from the HSE Centre, the Department of Health and the Department of Children, Equality, Disability, Integration and Youth.
We will finalise the structures, roles and responsibilities of health region teams throughout 2023 and into 2024. As part of this work, we will:
agree staff appointments and transition arrangements
define health region structures and align geographical areas
review the structures and roles within the HSE Centre and the Department of Health
progress integrated service delivery structures
appoint health region leadership teams
carry out staff training and training needs analysis
develop a phased learning plan
Model of Integrated Care and Healthcare Governance
Health regions will be accountable and responsible for understanding the needs of their local populations. They will be empowered to plan services in response to these needs, and they will be held accountable for the health outcomes.
We will finalise the model of health and social care delivery for each of the 6 health regions throughout 2023 and into 2024. To this end, we will:
develop a framework for health needs assessments
conduct a health needs analysis across each health region
agree on a governance approach and partnership arrangements for non-HSE providers
carry out baseline analysis of resources by health region
update the HSE Code of Governance
agree on a performance accountability framework
agree on baseline Key Performance Indicators (KPIs)
agree and implement an integrated service delivery model
Planning and Finance
Health regions will have appropriate authority and flexibility when managing finances at a regional level. Over time, the population needs in each region will inform their budget.
We will establish clarity around planning and finance throughout 2023 and into 2024, making sure the specific needs of each region are considered. As part of this work, we will:
approve a revised process for service planning
approve a revised process for HSE corporate planning
establish a Population-Based Resource Allocation (PBRA) Expert Group to develop the model
Infrastructure including Capital, ICT and Supports
By investing in modern technologies and maintaining facilities and equipment, we can offer better quality care and improve patient outcomes.
A number of core infrastructure activities will be carried out throughout 2023 and into 2024. We will finalise the capital arrangements, digital requirements and physical infrastructure needs of each health region. As part of this work, we will:
define and address critical Digital, ICT, and data requirements for each region
agree on a future approach to business functions for health regions
complete a branding exercise for health regions
identify health region headquarters
What happens next
A detailed plan for 2024 and beyond will be completed during 2023.
This plan will be co-created with all those responsible for health region implementation, including:
Health region senior leadership teams
patients and service users
staff
voluntary organisations
other service providers
Throughout the remainder of 2023, the responsibilities and boundaries of HGs and CHOs will be brought in line with the new health region structures.
Health regions will be set up from February 2024. They will be led by 6 newly approved regional executive officer posts. By the end of 2024, the existing HG and CHO structures will be stood down as the new health regions structures are established.
Integrated care allows patients and service users to access health services more easily, no matter where they live. It also makes it easier for our staff to respond to patients' needs and make improvements to care. It is a system of care where patients' needs come first.
Health regions are a crucial step in reducing barriers to integrated care and improving health outcomes for everyone.
View a presentation introducing the new health regions (PDF, 23 pages, 1.52 MB)