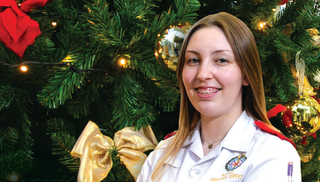 Information:
Print editions of Health Matters can be ordered by emailing internalcomms@hse.ie with your HSE office address and the number that you would like to receive.
Welcome to the latest edition of Health Matters.
In this edition, you will find:
A frontline Christmas (page 2)
While most of the county is settling down with their families to enjoy the special time over Christmas, our frontline healthcare workers are at work looking after patients and making sure everyone is getting the best of care. Some of the workers, from emergency call takers and paramedics, to staff on the ground in our hospitals, share their experiences of working over the festive season and what they do to make it special for themselves and their patients, both away from their homes and families.
Integrated Care and Regional Health Areas (page 26)
We put the spotlight on Integrated Care and the new Regional Health Areas (RHAs), which will see most of our healthcare accessed in our communities. Acute hospitals and Community Health Organisations (CHOs) will be grouped together into six large regions called RHAs. The RHAs will be fully operational by January 2024. It is all part of the Sláintecare vision of an integrated health system where a person can access high-quality healthcare from valued healthcare professionals, closer to their home, within a reasonable amount of time.
Health Service Excellence Awards (page 40)
We also find out about the winners in this year's Health Service Excellence Awards, which again received a massive number of entries. The awards are an opportunity to showcase and celebrate examples of the great work that happens every day across our health service. But it also gives staff a chance to see what other teams around the country are doing and has led to much shared learning.
A sincere thanks to all those who have sent in contributions to this edition and I hope you find plenty of interesting reading in it. Happy Christmas and a prosperous new year to all our readers.
Joanne Weston
Health Matters Editor