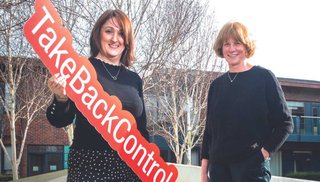 Information:
Print editions of Health Matters can be ordered by emailing internalcomms@hse.ie with your HSE office address and the number that you would like to receive.
Welcome to the latest edition of Health Matters magazine.
These are some of the stories you can find in this edition:
Take Back Control (page 6)
In January of this year, the Tobacco-Free Ireland programme and HSE communications launched a new advertising campaign for the Quit service. The campaign shows how people who smoke can start to take back control over their addiction in just 28 days with help from the Quit service. In 2022, almost 1 in 5 people in Ireland still smoke. The prevalence of smoking in Ireland remains at 18% and has not declined since 2019.
Celine O'Shea, Secretary to the Director of Nursing in St Francis Hospice Blanchardstown is smoke-free since October 2022. Read Celine's story in this edition.
Integrated Care and Regional Health Areas (page 8)
This year, we will begin setting up 6 Regional Health Areas (RHAs) within the HSE. These will replace our Hospital Groups and Community Healthcare Organisations from 2024 onward.
Read about mobile vaccination units bringing vaccines to the community in Cork and Kerry, the Integrated Care Programme for Chronic Disease, and many other related services in this edition.
Traveller Health (page 36)
Improving the health experiences and health outcomes for Travellers is the aim of the recently launched National Traveller Health Action Plan.
The Action Plan acknowledges the severe health inequalities that Travellers experience, arising from the social determinants of health, and the obstacles they can face in accessing healthcare services. It will provide a solid foundation upon which to build and maintain a legacy of success in addressing the additional health needs of the Traveller population. Read about the National Traveller Health Action Plan in this edition.
Note from the editor