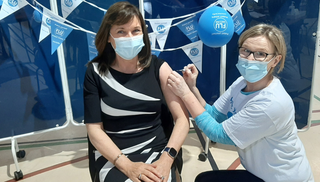 Information:
Print editions of Health Matters can be ordered by emailing internalcomms@hse.ie with your HSE office address and the number that you would like to receive.
Welcome to the latest edition of Health Matters.
In this edition, you will find:
Paul Reid reflects on his time as CEO (page 4)
We speak to outgoing CEO Paul Reid as he shares his highlights and low points of an unprecedented 3 years as CEO of the HSE. Not long after Paul started in this role in 2019, the health service was hit by the global pandemic.
3 years later, he is leaving the HSE with a message of thanks to staff. Meeting healthcare workers around the country in their workplaces was the most rewarding thing during his 3 years in charge.
Winter Vaccines (page 2)
As we move into the autumn and winter months, it is more important than ever that healthcare workers get the flu vaccine to protect themselves and others.
We should do everything we can to prevent the double burden of both flu and COVID-19 on our health services. This means getting both your flu vaccine and COVID-19 booster vaccine. Healthcare workers can receive a second booster dose now and will be able to get their flu vaccine from early October.
Steps to health (page 10)
The annual Steps to Health challenge continues to promote workplace physical activity, getting us up and out to meet those steps goals.
This year, an amazing 720 volunteers co-ordinated 4,373 participants during the 5 week programme. Like previous years it was challenging for some to walk together, due to remote working. Despite the challenges, most of our team co-ordinators found their task motivating, fun and would do it again. One of those determined participants shares her experience of the challenge with us.
National ambulance service community first responders (page 13)
Mum-of-two Emma Doyle speaks to us about her brush with death, experiencing a sudden cardiac arrest as she sat feeding her newborn son George at her home 2 years ago.
The fact that Emma is still happy and healthy and with her family, today is thanks to the first responders from the National Ambulance Service (NAS). The NAS has just launched a nationwide campaign for additional volunteer Community First Responders to support the work of the Emergency Services in local communities (see page 20 of Health Matters).
I hope you enjoy the stories and updates from your colleagues around the country and thanks to all who have contributed their initiatives and efforts.
Joanne Weston
Health Matters Editor