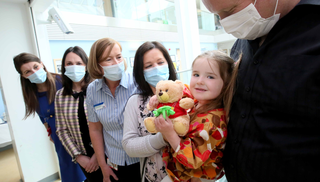 Welcome to the latest edition of Health Matters.
I don't think there is any community in the country that hasn't welcomed some of the thousands of displaced Ukrainian families that have made Ireland their temporary home. However, as well as a warm welcome, there is a huge amount of practical help that our visitors need – from accommodation and schooling, to employment and health services. It was fascinating to find out the sheer volume of the logistical operations being put in place by HSE staff to ensure that the Ukrainian refugees receive all the help they need.
Seven Ukrainian women who have joined the HSELive helpline team to provide assistance to their compatriots in their native language shared their experiences so far with us (page 2 and 3). Each woman has a story to tell about their journey to the far west of Europe, thousands of kilometres from their homes and the challenges they face. But all have said that they are delighted to have been able to get back to work and feel like they are making a difference.
We spoke to Dublin GP Dr Kateryna Kachurets, originally from the Ukrainian capital, who moved to Ireland six years ago (page 4). She is currently working with the HSE and the Irish College of General Practitioners (ICGP) on the Ukrainian crisis response. She outlined all the things that are being done to assist the refugees while they are in Ireland - access to a medical card with health screening services available as needed upon arrival, for example, COVID advice and relevant vaccinations. Medical emergency guides offering English-Ukrainian and English-Russian phrasebooks are available, as well as health information in Ukrainian and Russian on the HSE website.
It has been a mammoth task by all the HSE teams involved and it has further highlighted the resilience and kindness shown by health service staff over the past two difficult years. A sincere thanks to all those who have sent in contributions to this edition and I hope you find plenty of interesting reading in it.
Joanne Weston
Health Matters Editor