Published: 28 April 2021
As the weather gets better, with more people spending time outdoors, whether in the garden, being active locally or enjoying a run-around in the park with the children, it's important to protect your and your family's skin. 
The SunSmart campaign, led by the HSE's National Cancer Control Programme, Healthy Ireland and the Irish Cancer Prevention Network, is supporting people to build skin cancer awareness into their everyday wellbeing routine.
Skin cancer is the most common type of cancer in Ireland with over 13,000 cases each year. Yet, in most cases, it is also one of the most preventable forms of cancer. You can reduce your risk by avoiding overexposure to ultraviolet radiation (UV) from sunlight or artificial sources such as sunbeds.
Protect your skin by following the SunSmart 5 Ss
Slip on clothing that covers your skin, such as long sleeves, collared t-shirts
Slop on sunscreen on exposed areas, using factor 30+ for adults and 50+ for children
Slap on a wide-brimmed hat
Seek shade - especially if outdoors between 11 am and 3 pm - and always use a sunshade on a child's buggy
Slide on sunglasses to protect your eyes.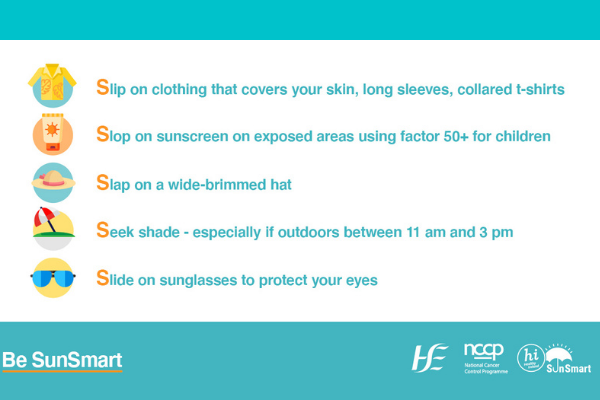 Watch HSE SunSmart 5 S's
As well as the 5 Ss it is important to remember:
In Ireland, the UV radiation levels are high from April to September, even when it is cloudy. Stay safe by limiting time in the sun when UV is strongest, typically between the hours of 11 am - 3 pm
Do not deliberately try to get a suntan. Remember tanned skin is damaged skin
Avoid getting a sunburn
Never use a sunbed
HSE SunSmart Outdoor Workers
How to protect your child's skin
Please see the SunSmart hub at hse.ie and #SunSmart on social for more information.