Published: 16 March 2020
Fiona Boyle, a Stop Smoking Advisor based in Donegal, used to find it very difficult to get the recommended 150 minutes per week of physical activity due to her busy family life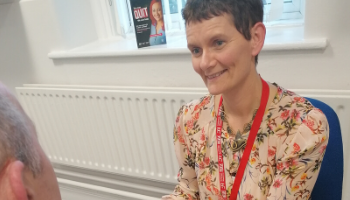 "I was pretty active in my younger years playing football, basketball and also swimming. However, since my daughter, Clara Rose was born (2011) and our twin boys Rory and Thomas (2012) I have found it very difficult to get the recommended 150 minutes per week of physical activity into my busy family life.
In recent years I joined a local fitness class but it was difficult to attend regularly due to my busy life at home. However, I made up my mind last March just before the Steps to Health Challenge 2019 that I was going to increase my weekly exercise and starting wearing a step counter.   I couldn't believe how little activity I was doing especially on the days I was in the office or out hosting my Stop Smoking Clinics. Some days it was hard to get near 5,000 steps never mind 10,000.
I spoke to my sister who had been trying to manage her weight and we agreed to meet every morning at the bottom of our lanes at 6.30 am and go for a 5-kilometre walk. We did this throughout the 2019 Challenge - no matter what the weather and I must admit there was only one morning where there was any sign of rain and we live in Donegal!  
I also went for walks with work colleagues at lunchtime.  Our team walked a bit, talked a bit, there was 8 of us with Linda McGuiness as team coordinator. Linda was excellent. She sent us inspirational messages every week by email, she was very 'on the ball'. Most of us work in the same office and we take coffee together so instead of the coffee if the weather was good, we took a walk. Linda led by example as she always persuaded us to choose the walk over the coffee. I have now learned that if I want to get anywhere near the recommended 10,000 steps for physical activity I need to incorporate a formal walk into my daily routine.
Our family went on holidays to Spain at the end of May last year and I took the step counter with me and kept the morning walk up while I was there. I continued to walk while talking on the phone in the office - walking back and forth to get those steps up and muscles moving.   I felt better and no longer felt guilty about not exercising, my sleep improved and I started going to bed earlier as I was getting up earlier. My weight was easier to manage and my clothes were more comfortable, I was in better form with the children as I was getting my 'me time' which wasn't interfering with the family routines.  
After the Challenge ended I continued to walk regularly until the end of June and then during the summer I was still exercising but not as part of a routine. It was more when I got the chance to do it when we were away in the caravan or taking the children out on the bicycles. Over the autumn and winter, our walking hasn't been consistent as my sister has had a few injuries so was unable to exercise and then the weather over the last 4 weeks between wind warnings and frost/snow it hasn't been safe to go out at 6.30 am.
In September I started pilates on a Monday evening which I found great. I'm also attending a Women on the Move exercise programme on Tuesday and Thursday evenings which is so helpful and good fun. I'm really looking forward to this year's Steps to Health challenge so that I can get back into the walking properly. I find walking is also great for my mental health.   My work colleagues bought me a FitBit for my 50th birthday so I am rearing to go!".
Bernie Miggin is a Control Supervisor in the National Emergency Operations Centre, Tallaght. Bernie took part in the 2019 Steps to Health challenge. Read Bernie's story here
Registration your team for the 2020 Steps to Health Challenge before Sunday 22 March on hse.ie/stepschallenge