Published: 5 March 2020
The 2019 Steps to Health Challenge was just what Bernie Miggin needed to motivate her to exercise again after a jogging injury left her with two broken arms.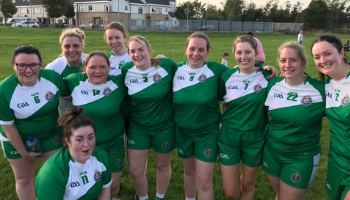 Bernie, pictured above with the National Ambulance service ladies football team, second from the left in the standing row.
"I broke my two arms while jogging two years ago and found it very hard to motivate myself to get out and moving again. Between the fear of falling again and just having got lazy!
The 2019 Steps to Challenge was just what I needed and when our team Walkie Talkies got going, I loved the fun element and the healthy and friendly work competitions between colleagues. Everyone urged each other on while we were all trying to get the most steps done. It motivated me to get back out there and start moving and walking again. I loved the interaction and banter between colleagues as we discovered daily who had (or had not!) walked all seven flights of stairs into work instead of taking the lift. That had a huge fun element to it.
I was hopeful and feeling inspired to be back jogging again before the five weeks were up. That was my main aim. With the help of my colleagues working together as a team and meeting at 5.45 am before work to go for a walk or a jog, I am delighted to say that it definitely got me back to a comfortable level of fitness. It also inspired other work colleagues to begin their own running journeys.
The Walkie Talkies had 20 members and the work walks and seven flights of stairs motivated me to get out and go for a walk too when I went home. Our team coordinator was Sarah Hogan - she was fantastic. She set up a text group and sent us inspirational texts and organised walks with the team even on our days off!!!
Before the Challenge, I had barely reached 5 kilometres but was hitting 12 and 13 kilometres at the end and was eager to continue doing more challenges. Our team continued to walk after the Challenge ended and we did two other activities to ensure we kept it up. We ran a challenge among ourselves with some of the team signing up and completing virtual runs. We also widened the team to include other colleagues. They all came to my home town of Edenderry to do the Relay for Cancer on 31st August 2019. Together, we walked in a relay format for 24hrs while raising funds for cancer. Everyone made a valuable contribution throughout the day and night. Colleagues came and joined us as they finished 12hrs shifts and took to the track to ensure we completed it. As you can imagine it was tiring, a massive challenge and commitment, but not one person complained. In fact, colleagues were laughing and even dancing around the track towards the end of the night. They were perhaps even more motivated than in the first few hours. They loved the feel-good factor of being with friends and colleagues from all walks and all ages of life. This achievement lifted all our spirits and before the 24hrs was over we were all talking about our next challenge and how we would do to continue on our health and wellness journey.
I was also conscious of the improvements in fitness levels and overall health and wellbeing of the staff in the National Emergency Operations Centre was gaining. With our management's approval, I submitted our workplace to compete for the Irish Heart's Active at Work award. We competed for the gold standard level, which is the highest award category. The men's National Ambulance Services already had a GAA team so Christine Ahearn set up a ladies team and we were successful in 7 a side tournaments as well as other challenge matches. We had staff taking part in Muck Runs, Hell and Back, organised cycles and many more events.
Starting off with the Steps to Health Challenge led us to proudly accept the Gold Active at Work award from Irish Heart, alongside our Operational Bases, Dublin South Central and Loughlinstown. 
We are eagerly looking forward to the 2020 Steps to Health Challenge, as it really boosts the mood in the control room. Walking and chatting with a colleague is so good for your mental health.  It is very apparent that it also helps staff to be more motivated in their work lives.
The Steps to Health challenge is a fantastic way to kick start changes in your life that not only you but your family and work colleagues will benefit from. From the physical aspect of feeling good to the emotional and improved mental health, it can bring. Most important are its fun elements. 
Registration your team for the 2020 Steps to Health Challenge before Sunday 22 March on hse.ie/stepschallenge