Published: 16 December 2020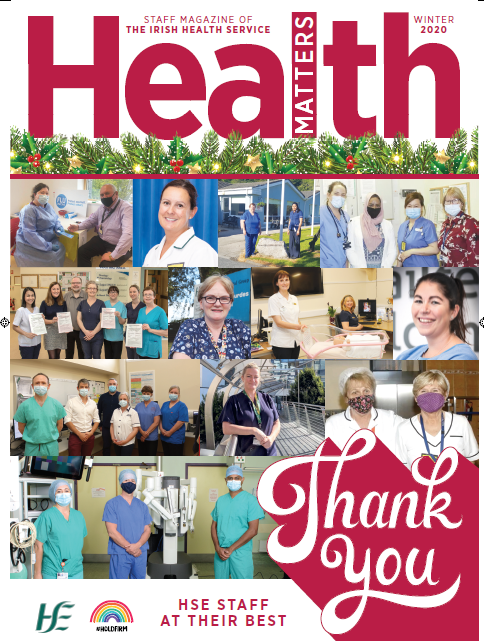 Welcome to the latest edition of the new-look Health Matters.
After a year like no other, we again pay tribute to the tireless work and innovation that is going on throughout the health service in response to the COVID-19 pandemic.
Like so many healthcare facilities around the country, Cavan and Monaghan hospitals were blown away by the gestures of goodwill given to them from the local community since March: from the donations of PPE from local businesses and schools, the donations of meals and baked goods for staff, self-care packages for patients, the individuals who manufactured PPE, the ladies who crocheted hearts, the artists who volunteered their art for patient cards, the donations of tablets to allow patients communicate with their families, to the generous financial donations received from various fundraising initiatives for their frontline staff.
Those fundraising efforts will eventually see the construction of an outdoor eating space where staff can take a break from their work to enjoy some fresh air and quiet. It is hoped that is will be ready for staff by early spring. It will be a testament to the community spirit that has been fostered throughout the public health emergency.
For staff that find themselves struggling with the workload – both physical and mental – the Employment Assistance Programme is there to provide mental health supports, with counsellors available to listen.
One counsellor that we spoke to urged staff members to reach out for support, telling them that they are not on their own. Ann Callanan, a counsellor with the programme since 2006, urged HSE staff struggling with the stresses brought on or exacerbated by the COVID-19 pandemic to get in contact. She highlighted the value of speaking to a counsellor familiar with the unique pressures of working in the health service.
We also take a look at the Healthcare Work COVID-19 Helpline, another support in place for staff who can access vital information on any aspect of COVID-19 with just one phone call.
A sincere thanks to all those who have sent in contributions to this edition and I hope you find
plenty of interesting reading in it.  Happy Christmas and a healthy and safe new year to all our readers. Let's hope 2021 brings us all some fresh hope and good news.
Joanne Weston,
Editor of Health Matters