Published: 10 March 2021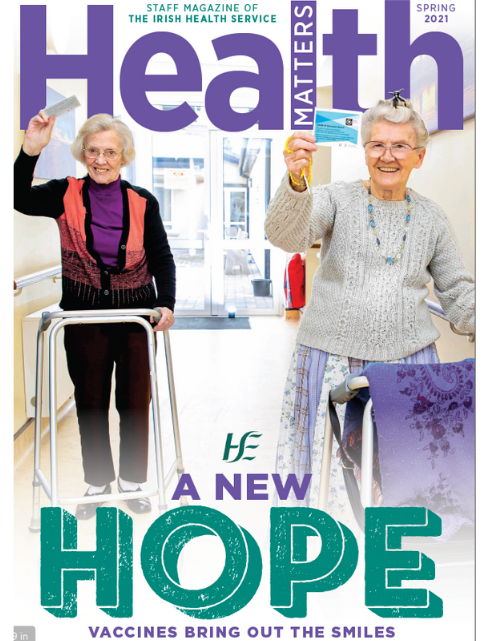 Welcome to the latest edition of the new-look Health Matters.
We enter the spring of 2021 with a renewed sense of hope and optimism. It's hard not to feel there's light at the end of the tunnel when you are faced with happy and smiling faces behind the masks, in stark contrast with the images we are more used to seeing of a battling staff on the frontline. And, of course, the source of this renewed optimism is the small vials of COVID-19 vaccines being rapidly distributed around the country.
In the first two months of the year, we have seen our tireless healthcare workers receive their COVID-19 vaccination, providing a sense of relief in the midst of the deadly third wave of the pandemic. Staff have shared with us their own feelings of happiness, determination, and relief as they get the vaccine and the opportunity to give the protective jab to our most vulnerable across our long-term residential care facilities and hospitals. And who couldn't be moved by best friends Florence O'Reilly, aged 87, and Nancy Keogh, aged 92, who all but danced out of the room in Navan Road Community Nursing Home after getting their COVID-19 vaccine?
But there's still plenty of work to be done before we can put the worst of COVID-19 behind us. We chat to one of the busy contact tracing teams about their work at the height of the third wave. We also take a look at the many initiatives being introduced in healthcare settings up and down the country to safely deliver care to patients.
On a lighter note, we see how HSE staff members Hazel Hartigan and Sharon Gaffney got on in the Operation Transformation spotlight as two of this year's leaders.
A sincere thanks to all those who have sent in contributions to this edition and I hope you find plenty of interesting reading in it.
Joanne Weston
Editor of Health Matters