Published: 26 October 2021
Lourdes staff win top flu vaccine award for the fourth successive year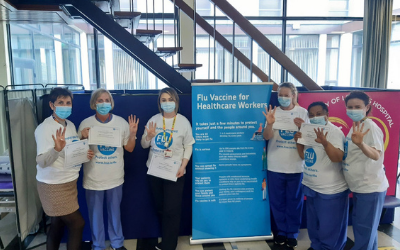 It was four in a row for the staff of Our Lady of Lourdes Hospital at this year's Seasonal Influenza Vaccination Awards as they took the top prize once again.
The ceremony, organised by the National Immunisation Office, was held virtually this year.
Acute Category
An impressive 89.2% of staff at the Drogheda hospital received the flu vaccine during the winter period 2020-21, The highest uptake of staff in hospitals across the country. Their colleagues in Beaumont Hospital took the second spot with an uptake of 87.1%.
Third place in the acute category went to Wexford General Hospital where 84.9% of staff got the flu jab.
Lourdes flu champion Martin Smith has been the person responsible for leading the campaign and heading the team of peer vaccinators over the last number of years and has just retired, passing the baton on to his former colleagues.
"It was a pleasure to lead this wonderful team with Adrian [Cleary, Director of Nursing] to first place for the last four years. Best of luck everyone with this year's campaign," he said.
Best Improver Category
In the best improver category, maternity hospitals took the top two spots. University Maternity Hospital Limerick saw a seasonal uptake of 69.9%, which represented an incredible increase of 41.4% on the previous year. Cork University Maternity Hospital had an uptake of 73.2% of staff, a jump of 35.1% year on year.
Kilcreene Orthopaedic Hospital in Kilkenny saw their staff uptake rise by a third to 59.5% to land them third place in the category.
Eileen Ronan, Director of Midwifery, UMHL, was delighted with the award win.
"On behalf of a multidisciplinary team of University maternity hospital, I am delighted to receive the award of best improvement for influenza vaccination amongst healthcare workers for 2020/2021 influenza season. The uptake in 2020/2021 demonstrates the awareness among our teams of the importance of protecting themselves, their families and services users in our care," she said.
Long-term Care Facilities Category
In the long-term care facilities, all the top three in the under 100 beds category reached almost full uptake by staff. Brymore House Nursing Home in Howth had a 100% uptake, followed by Carlingford Nursing Home in Carlingford, Co Louth with 98.1%, and Howth Hill Lodge Nursing Home, Howth at 97.8%.
Best improvers in the under 100 beds Category
The best improvers in the under 100s bed category were Re Nua in Cashel, Co Tipperary whose uptake of 86.4% was a jump of over 60%. In second and third place were Tralee Community Nursing Unit at 81.5% (up 55.5%) and Kenmare Community Hospital in Co Kerry at 92.1%, up by 53.4%.
Best improvers in the over 100 beds Category
In the over 100-bed long-term care facilities, the winners were Our Lady's Manor, Dalkey in Dublin with a 95.9% staff vaccine uptake. Killarney Community Hospitals (Fuschia, Hawthorn and Heather wards) followed in second place with 88.6% uptake. Peamount Healthcare ID Community-based Service came third with 85.5%.
Killarney Community Hospitals also took home the best improver award. Their 88.6% uptake was 39.1% higher than last year. The Royal Hospital Donnybrook was second with 55.5%, up 11.7%, and third was Chery Orchard Hospital in Dublin 10 with 58.9%, up 5.7%.
HSE CEO Paul Reid told the awards ceremony that the phenomenal uptake take-up in the COVID-19 vaccine in Ireland was thanks largely to the strong confidence built up through the flu vaccine campaigns.
"A huge thank you to all the staff who have served as ambassadors for the flu vaccine campaign and have inspired and driven confidence in the vaccine among their fellow workers and congratulations to all the winners today," he said.

"As we head into winter, we still have a great deal of apprehension over the challenges that are ahead for our acute services and they could be very significant. We are faced with having to manage the twin challenges of flu and COVID and that is why it is so important that flu vaccine levels among healthcare workers continue to remain high.
He noted that the last 18 months of COVID have seen trust and confidence in the HSE soar thanks to consistent and coherent advice from NPHET, GPs, consultants, and other healthcare workers.
"We have taken great learnings from how that trust of the public has risen through COVID and with the vaccine uptake, and how we can use that to see high levels of the flu vaccine through the community this winter," he said.
Get more information about Flu Vaccine for healthcare workers here