Published: 14 October 2020
Representatives of the African Museum presented an original piece of artwork to HSE CEO Paul Reid on behalf of all healthcare staff in tribute to their tireless hard work during the COVID-19 pandemic.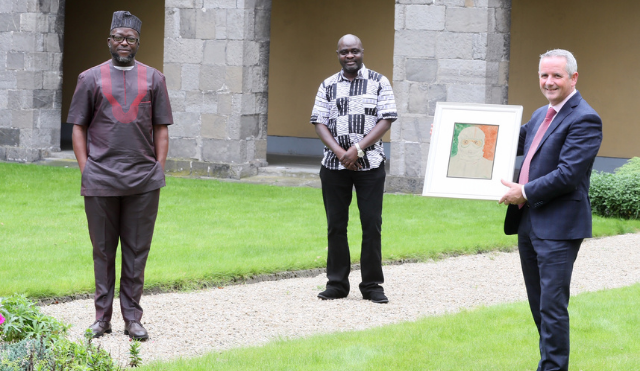 Titiloye Amzat, from the African Museum, explained that the work represents the sacrifice of the health workers in Ireland during the height of the virus.
"The painting has a face representing the resilient frontline worker with the Irish flag in the background. African motifs that represent hope and unity are embedded in the flag," he said.
The painting is done with watercolour on paper.
"At the peak of the pandemic, health workers were truly at the forefront confronting the challenges to protect all of us. We note with keen interest how people expressed love with gifts and applause to appreciate them," he said.
"On our part, we felt that a piece of artwork could be a token of our appreciation to all the health workers in the HSE because we are all concerned. The presentation was made to continue sending a message of appreciation even after COVID-19 has passed."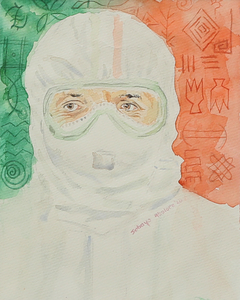 The artist Abolore Sobayo, founder of Sobayo Abolore Art Foundation, has participated in residencies, several group shows, two solo exhibitions, and a number of public arts monuments/installations. One of his popular works is Fela Effigy in the city of Lagos, Nigeria, fondly refer to as 'Headless Fela' by the locals.
Paul Reid, CEO of the HSE, thanked the African Museum for their very kind donation.
He said "It is an honour to accept this artwork on behalf of the HSE. We are so grateful for the continued support of the African community living in Ireland, many of whom are members of our healthcare staff. They have formed a vital part of our services over the years, and continue to play a huge role in our fight against COVID-19".