Published: 2 February 2021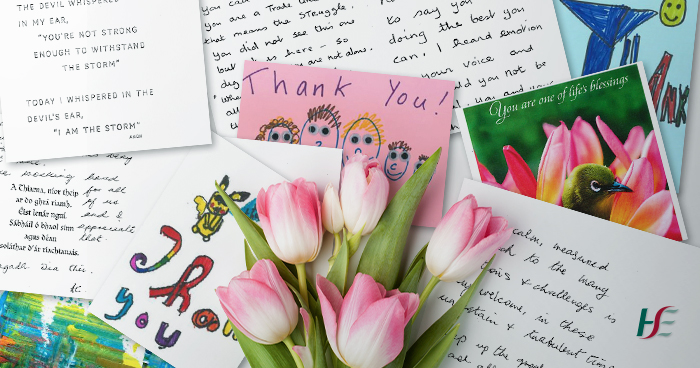 February 2021
Dear Colleagues,
When I first shared some of the cards and letters that I received from the public last year, I did so with immense pride as they truly illustrated the depth of gratitude for your incredible commitment and resilience.
Back then I commended your dedication.  Now, many months later, as we sustain our commitment in managing the current wave, I want to reiterate my thanks for the unrelenting way you have continued to work throughout this pandemic and face into its challenges.  I want to share again some more of the correspondence I have continued to receive.
The notes, letters, cards and emails reflect not just how much the public value the vital role you play, but they also acknowledge how you are all continuing to work while living through the everyday reality of this pandemic. 
Every aspect of our lives have been impacted and the challenge in managing all types of demands is truly understood and appreciated. Recently, at our weekly press conference, we heard directly from Bernie Waterhouse, Clinical Nurse Manager in St James's Hospital who manages a Covid Ward.  What she outlined was harrowing and tough. 
The public see that and they know and appreciate the pressures experienced by everyone and in particular our frontline staff.  When I spoke recently at our staff webinar I expressed my own appreciation for how our staff have been dealing with the higher emotional aspect of this - caring for patients and assisting their families, at what has to be the worst time for them. 
But what is fundamentally different about this time now compared to last year is the vaccination programme – hope.  We are again mobilising across the country to roll out the programme.    You will also have observed that this has been and will continue to be a bumpy road in terms of supply. But I would just remind you that we have always been clear – we made a commitment that we are honouring, that whatever supply line comes in, we will vaccinate to that level.
This will pass and we will all look back someday with huge pride at the part we played in what was a once-in-a-lifetime crisis for the healthcare system and for the country. 
Finally, I just want to again say thank you for what has been a really difficult year - thanks for what you do every day, regardless of what role you play. 
Paul Reid
CEO
Messages of Thanks to Healthcare Heroes 
"My name is Emme and I am in first year in school. I just wanted to write to thank you for all of the hard work you have been doing for our country. I want you to know that we are really grateful for everything you do. It must be hard. Hopefully, we get out of this pandemic soon, I think there are positives aswell, like we get to spend time with our families and we can appreciate the little things in life. Thank you so much and keep smiling!"

from Emme
"A very sincere 'Thank You' to you all for your endurance of patience, tolerance during this most awful of times. Best of luck."

From Gemma
"Just a note to say Thank You and to acknowledge your hard work leading the HSE over the past year of this COVID-19 crisis. The regular press briefings and Staff Webinar and email updates you provide have given reassuring confidence that you and your team and all at NPHET are doing your utmost to keep people as safe as possible during this time. While I am not a frontline worker I feel proud to work for the HSE. Kind Regards."

From Caroline
"My name is Millie, I am 8 years old. I would like to say you should add the negative cases because of the worries people to show that there is nothing to worry about because there is probably more negative than positive."

From Millie Mc
"When a storm is coming, all other birds seek shelter. The eagle alone avoids the storm by flying above it. So, in the storms of life may your heart be like an eagle's and soar above."

from Rita
"My thoughts and prayers are with you at this very difficult time. You are working hard for all of us and I appreciate that. Go mbeadh Dia leat."

From Paul
"Keep up all the good work. Delight in every success and do not be disappointed with a failure. It is the final destination that we are all working toward – the bumps along the road will, in time, be forgotten. Take Care. Blessings"

From Maria
"Well done for all you have achieved so far."

Best wishes Daire
"This note is to thank you and congratulate you in equal measure for your exceptional performance during this pandemic. I wish good health and energy to you and your families."

From Ruth
"You are providing public service at its best. Your calm measured approach to many challenges are very welcome in these uncertain times. Keep up the good work and hopefully the vaccine roll out will bring brighter and better days ahead. Beir bua."

From Mary
"Just this short note to offer you a BIG THANK YOU and your HSE TEAM, for the powerful and highly effective work you do every single day. Millions of us ordinary citizens have good reasons to be grateful to you and the team you lead, especially during these very troubled times. Sincere thanks once again."

From James & Mary Jo
"My mother Mary passed away last week after suffering ill health for some time and I thought it was important to share with you our experiences as a family. My mum received fantastic care from her doctor, her careers, district nurse and the amazing community nurses. We received all the appropriate equipment when needed, everything was done for her and ultimately this was of great comfort to us as a family. I know the main focus for the HSE has to be reducing the numbers of Covid patients however it's important to highlight that the regular services are running well due to fantastic people who work for the organisation.

The HSE services were supported by the palliative care team of North West Hospice and we will be forever indebted to them. Kind regards and thank you."

From Bertie
"My wife and I were referred for Covid testing by our local G.P. yesterday. Within 15 minutes we had received confirmations, separately, on our phones.  We were met with courtesy and care. I cannot express our thanks enough, especially to the lady who administered the tests and we were blown away by reception of the results only 13 hours later - negatives.

You and your team have been doing a superb job I wish you well in the remaining year of hard work and hope you have as few obstacles in your way as possible. Yours Sincerely, and Gratefully."

From Mick
"I'm just reaching out to express my thanks to all the amazing HSE staff I've encountered since testing positive on New Years Eve, especially to the contact tracers that were amazing to deal with. On the other end of every call I received was an extremely friendly, warm and helpful person who was patient with my questions and took time to talk through the next steps. I was very aware these people were working through an awfully high volume of calls and had a lot of work to do, so I wanted to say thank you to them.

I was also referred to the assessment hub in Wicklow for a check in my breathing, and everyone I met and talked to over the phone there were again so friendly, helpful and really put me at ease.

I just wanted to express my huge thanks to all the work you're doing along with all your teams."

From Michelle