Published: 15 April 2021
Evidence suggests that the vaccines are performing well against COVID-19 including the B117 variant, we know that most frontline health care workers (FHCW) have received at least one dose of vaccine and the numbers of FHCWs becoming infected with COVID-19 has reduced by over 95% since January.
You can follow the progress of the vaccine rollout programme by reading the weekly update on coronavirus news
Infection control remains a high priority as the virus is still circulating in the community. We must remain hyper-vigilant about infection control measures.
What we need to remember about COVID-19 vaccines
Vaccines don't work right away
Your immune system takes some weeks with the vaccine to train before it is fit to fight the real virus. 
Vaccines are not perfect
After your immune system has trained up the vaccine is very good at protecting most people from disease but the effect is not perfect in every one. Some people do get COVID-19 disease even after completing the schedule of vaccination. 
Vaccines might not stop you from spreading the virus.
Vaccines do reduce the risk of you spreading the virus to others but it not clear yet just how good they are at that so you might still get a silent infection that can contribute to spreading the virus to others (patients and colleagues).
COVID-19 vaccines only prevent COVID-19
There are a lot of other infections that healthcare workers can catch and spread.
With all of the above in mind don't drop your infection prevention and control precautions just because you had the vaccine.
Important Infection Prevention Steps
COVID-19 is still a threat to our health service so for now even after you complete your vaccination schedule please continue to follow these steps:
Work from home and avoid office environments as much as possible. Find information on working from home here.
Do not come to work if you have symptoms of any viral respiratory tract infection even if your GP advises that you do not need a COVID-19 test at the moment. You should not come to work until you have been better for 48 hours.  Find information on COVID related leave here.
Keep your distance from other people as much as possible this includes at break times, when using communal changing rooms and when using corridors and meeting spaces.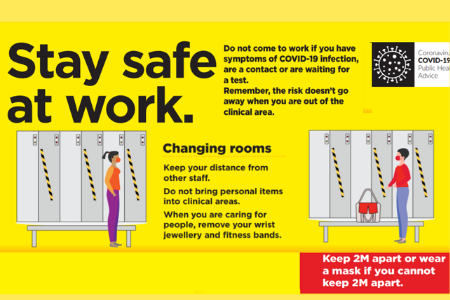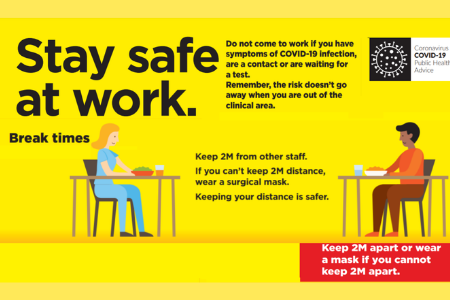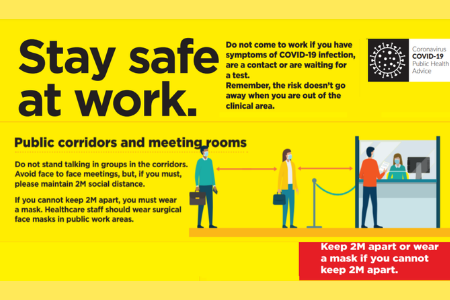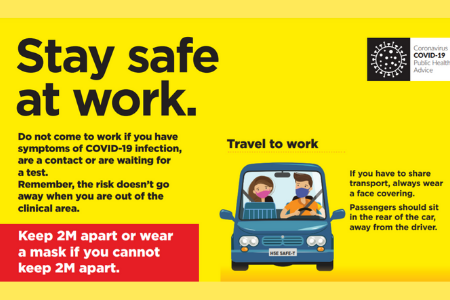 Watch a message from Prof Martin Cormican on How to Stay Safe at Work 
Watch -Stay safe at work animated video
Supports and guidance
Supports and guidance are available for staff to help protect your health and the health of your colleagues and family.  These resources include:
Related items
Stay safe at work poster (poster is online and printed, it can be ordered from www.healthpromotion.ie )