Published: 14 May 2020
Stay safe, protect each other, hold firm
We are experiencing a pandemic like nothing we've seen in our lifetime. For our health service and other essential services, every day brings a new challenge that has never been faced before.
The people of Ireland have spent the last few months taking steps to flatten the curve, to protect our health service and frontline workers and save lives. These actions are reducing the impact of COVID-19 on the country and our health service.
But we now know COVID-19 is going to be with us for a while. We need to motivate and inspire people to keep up the actions that help us to stay safe and protect each other. We need the people of Ireland to Hold Firm.
New TV and Radio Campaign – Hold Firm
The Hold Firm campaign takes inspiration from the words of President Michael D Higgins, written in his 1993 poem, Take Care.  
Staying away from the people we love and the things we enjoy is not easy. It's not us. But, this is us – taking care of each other, supporting our colleagues on the frontline and in the back office, and the people most at risk in communities all across the country.
Rainbow symbol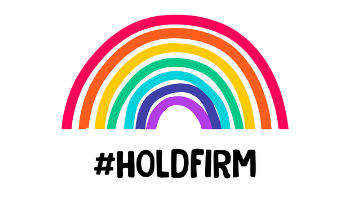 'This is us' TV ad
Take care
We want to acknowledge the public's monumental efforts to keep our frontline and essential workers safe by staying home. Using the poem as inspiration, our frontline staff have joined together to give new meaning to President Higgins' inspirational words.
Thank you to all of our frontline staff who volunteered to be a part of this campaign. The HSE healthcare staff in the video are:
Mary Walshe, Site Manager, City West,
Cornelius Dhivakar, Senior Occupational Therapist in Acute Stroke
Doctor Colm Henry, Chief Clinical Officer
Marie Nicholas, Senior Speech Language Therapist
Paul Reid, HSE CEO
Dr. Bairbre McNicholas, Consultant Intensivist
Louise Staunton, Occupational Therapist
Sarah Kavanagh, Paramedic Undergraduate Intern
Cathy Barrett, Infection Control ADON
Margaret O'Leary, Health Care Support Assistant
Gillian Collins, Occupational Therapist in General Medicine
Mary Majella O'Dowd, Senior Occupational Therapist
Aoife Lyons, Clinical Nurse Manager 2, Ophthalmology Services
Dr. John Fitzsimons, Consultant General Paediatrician
Mabel Murtagh, Public Health Nurse
Share #HoldFirm
Get involved on social media by commenting and sharing on our posts and share your personal message of hope and solidarity. Include #HoldFirm and signpost to hse.ie for current advice and information.
Hashtag: #HoldFirm
Twitter handle: @HSELive
Facebook Page: facebook.com/HSElive/
Instagram: instagram.com/irishhealthservice