Published: 15 May 2020
This Monday 18 May 2020 sees a significant step in the Government's roadmap to reopen Irish society in a carefully managed, phased manner. The roadmap sets out five stages for unlocking restrictions, at three-week intervals.
The first phase will include the following:
allow outdoor meetings between people from different households
phased return of outdoor workers
open retailers which are primarily outdoor or those which were open during first level of restriction (for example, opticians)
opening of certain outdoor public amenities
The majority of Health Service employees will continue to maintain existing procedures, ie continue working from home with only essential healthcare staff travelling to work.
In preparation for all phases of the roadmap, the Government has published a Return to Work Safely Protocol which describes enduring changes to the way that we will all work as we resume all of our health and social care services in a planned manner in the coming weeks and months.  The protocol is designed to support employers and workers to put measures in place to prevent the spread of COVID-19 in the workplace.
What we plan to do
In the context of the Health Service as a workplace we will apply the requirements of this protocol primarily through the organisational lines and within our health and safety frameworks to ensure the safety and welfare of all staff and the public using our services.  The new ways of working that we have developed in our initial response to COVID-19 will be enhanced and enabled by the application of this protocol in consultation with staff and unions.
In addition, as the nature of the business in health services is primarily in the delivery of care, we have some additional considerations to work through.
We have now reached a point where, as a result of public compliance with COVID-19 mitigation measures, capacity within the health system is becoming available for the resumption of all non-COVID-19 services.  We will be reintroducing scheduled acute and community care in a planned, appropriate and considered manner which optimises patient care while minimising risks to the public, to healthcare staff and to the wider healthcare system. This will allow us to embed the changed work practices where possible to keep us all safe in line with public health principles and guidance.
Out of all the negatives of this pandemic there is the opportunity to accelerate change in the way we deliver services. Organisational, physical space and patient flow measures all need to be considered. Overcrowded health and social care facilities will no longer be tolerated as a feature of our services. We need to continue to save lives by ensuring that people can stay safely apart in healthcare settings.
Protocol implementation
The following tables represent the HSE's approach to the implementation of the protocol.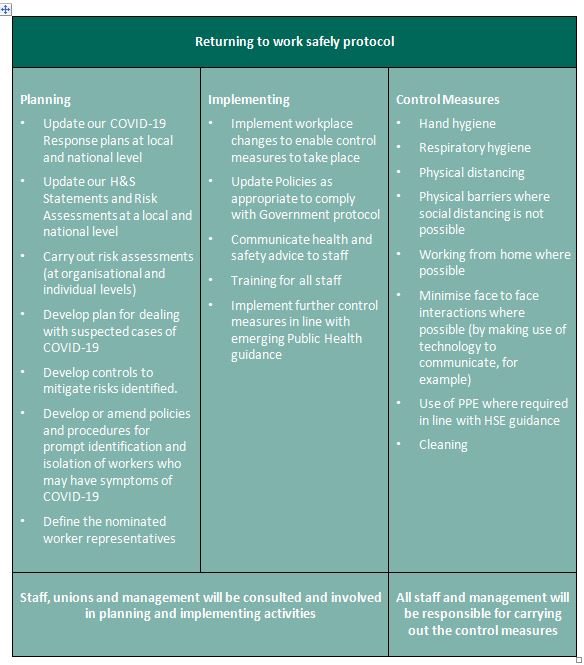 The following details are intended as guidance pertaining to further control measures to be adopted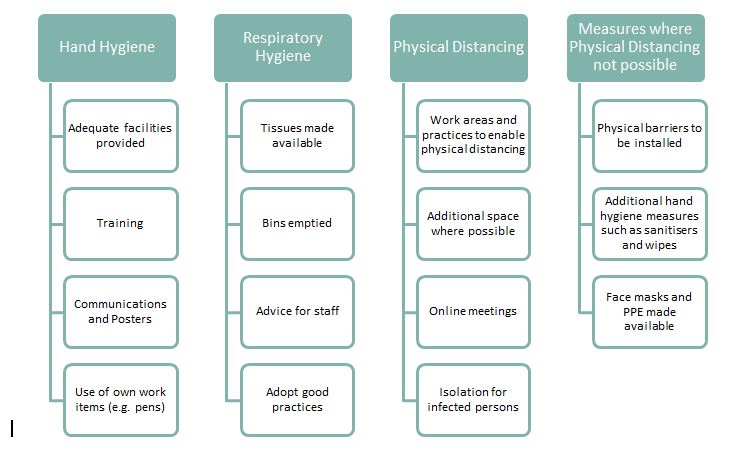 We have worked in a very different way at very short notice in response to COVID-19, so we know we can do it and must continue to do it into the future. 
Over the next weeks we will detail the work to be done to enable this change, we want to hear from staff and services as to their views on enduring changes and we will keep you updated