Published: 30 December 2020
Annie Lynch, a 79-year-old woman from Dublin, has become the first person in Ireland to be vaccinated against COVID-19. Deborah Cross, a Clinical Nurse Manager for 12 years, gave Annie the vaccine on the 29th December at St James's Hospital in Dublin 8.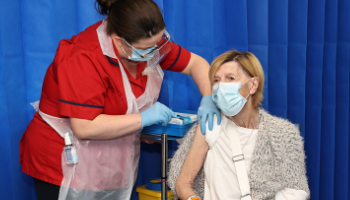 Annie Lynch getting her COVID-19 vaccine in St. James's Hospital, 29th December 2020. 
Bernie Waterhouse is a Clinical Nurse Manager working in a designated COVID-19 ward in St James's Hospital, and is the first healthcare worker in Ireland to get the COVID vaccine.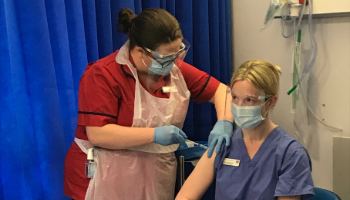 Bernie Waterhouse getting the COVID-19 vaccine, St. James's Hospital, 29th December 2020
The Pfizer BioNTech COVID-19 Vaccines given were from the first delivery of 10,000 doses received by the HSE on 26th December. Vaccinations took place at 4 hospitals across the country – St James's Hospital and Beaumont Hospital in Dublin, Cork University Hospital, and University Hospital Galway.
Lorna Quinn, Assistant Director of Nursing and one of the peer vaccinators who will deliver the COVID-19 vaccine to staff based in University Hospital Galway was the first staff member in the hospital and the Saolta Group to receive the vaccine. Lorna received the vaccine from her UHG nursing colleague Michelle McNamara Nee.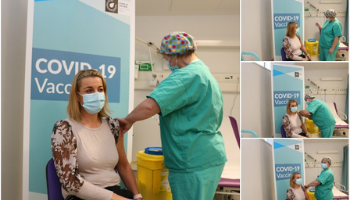 Lorna Quinn getting her vaccine in University Hospital Galway, 29th December 2020
At Cork University Hospital vaccinations got underway with Professor Mary Horgan, Consultant in infectious diseases at Cork University Hospital (CUH) and President of the Royal College of Physicians of Ireland, leading the way by being the first person to receive the vaccine at CUH

Dr. Mary Horgan, getting vaccinated by Stephanie Mulcair at Cork University Hospital, 29th December 2020.
Vaccines will be administered in acute hospitals initially and in long-term care facilities starting from 4th January onward. Each person receives a HSE vaccine information leaflet, along with the manufacturer's patient information leaflet, before getting the vaccine. Afterward, post-vaccination advice and a vaccine record card is given, showing the name and batch of the vaccine they have received.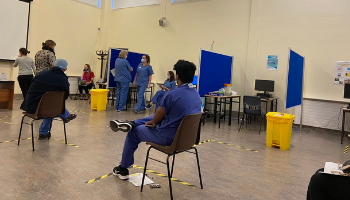 Staff preparing for the first COVID-19 vaccinations in Beaumont Hospital, 29th December 2020
Vaccine rollout
The first groups being vaccinated are frontline healthcare workers and people who are most at risk from serious infection if they catch COVID-19. Once these priority groups have been vaccinated, the vaccine will be open to other groups. This will go on throughout 2021 and you can read the COVID-19 Vaccine Allocation Strategy here.
The first vaccine being used is the Pfizer BioNtech vaccine, called Comirnaty which received European Medicines Agency (EMA) and EC marketing authorisation on December 21st. Each different vaccine will be reviewed and licensed separately by the EMA.
The first delivery of 10,000 doses of this vaccine arrived on 26th December, and deliveries of 30–40,000 doses are planned to arrive during January and February. Deliveries will take place in stages and on a rolling basis, subject to availability.
As other vaccines come through the licensing process, the programme will expand out to the other priority groups. Groups will be invited for vaccination as stock and approvals are confirmed. The HSE's priority is the safe and effective rollout of all vaccines in a managed and systemic manner.
Keep up-to-date