Published: 6 August 2021
The six millionth COVID-19 vaccine dose was administered on what was hailed as a 'very proud day for Ireland' by HSE CEO Paul Reid.
"It is a very proud day for Ireland with Kellie Harrington reaching the Olympic final and that we have reached the six millionth vaccine milestone," he said.
3.3 million people have now received their first dose or a single dose of a COVID-19 vaccine and 2.8 million have received their second dose. Those figures mean that 75% of over 16s are fully vaccinated and 89% are partially vaccinated.
The HSE CEO reported that the uptake of the vaccine continues to be strong.
99% of people aged over 70 have received their vaccine,
96% of 50-59-year-olds,
and 89% of 40-49-year-olds.
Mr Reid also confirmed that registration would open for 12-15 year old's next Thursday, August 12th on the HSE online vaccine portal.
He hailed as 'remarkable' the number of people who attended the walk-in vaccination centres around the country over the Bank Holiday weekend, saying it was a 'significant milestone' for the vaccination programme. While 85% of people attending the clinics were aged under 30, he said the oldest person to attend was an 83-year-old in Sligo.
"Young people showed up in great numbers. It was a great moment for the HSE, for Ireland and for the vaccination programme. We were genuinely taken aback by the overall experience," he said.
Meanwhile, congratulations to the team at Punchestown Vaccination Centre on reaching 100,000 vaccines on Thursday morning.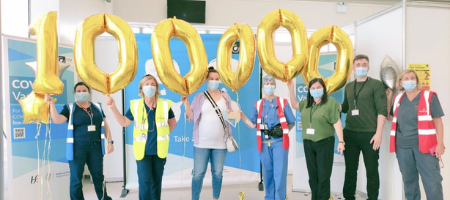 Expectant mum Sylvia Moore was the recipient of the 100,000th vaccine at the Kildare centre.