Published: 30 July 2021
Ireland's vaccination programme has proven itself to be 'agile' and is a 'great example' to the rest of Europe.
HSE CEO Paul Reid praised the hard work being done to ensure that the vaccine rollout continues to be a massive success, and said that there was 'great grounds for optimism' because of it.
"The pace of vaccine rollout has given us a path to some level of normality where we can rebuild society and the economy," he said.
He confirmed that 86% of adults have received at least one dose, while 71% are fully vaccinated.
Mr Reid also said that community pharmacies and GPs will 'play a key role' in the administration of booster vaccines and that 'vaccine centres possibly might have a role'. He said the prioritisation will likely follow a similar line as the initial vaccine programme - age, underlying conditions; etc.
Walk-in vaccination clinics
The HSE has said the walk-in vaccination clinics over the Bank Holiday weekend will be to allow those who may be holidaying around the country to avail of a first dose at a location near to them, as well as targeting the 16-18 age group. The Pfizer/BioNTech vaccine is being offered at walk-in clinics to anyone over the age of 16 who is not yet vaccinated.
HSE National Lead for the vaccine programme Damien McCallion said they want to make sure getting the vaccine is as easy and convenient for people as possible.
"In particular, when people might be holidaying in Ireland over the long weekend, they can still avail of the vaccine at a location that is convenient for them. People's second doses can then be scheduled for a location near their home," he said.
Meanwhile, there were plenty of smiling faces at Mallow Vaccination Centre as many in the over-18 age group got their first dose of the Pfizer vaccination this week.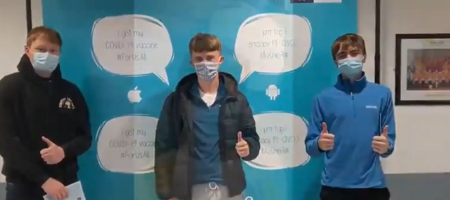 19-year-old Matthew McHale said he was delighted that his time had finally come.
"It's been a long time coming, to be fair. I think I've waited months and months on end for it and now that it's finally here it's a big sigh of relief, to be honest," he said.
18-year-old Ruby said, "It's a relief to be vaccinated. It's just peace of mind and everything was okay getting it."
Sarah, 21, said she got her appointment notice less than 24 hours after registering on the online registration portal.
Miriam O'Callaghan, also 19, said having the vaccine will make her work life a lot safer.

"Working in my local pub, it is much handier now being vaccinated," she said.