Published: 30 April 2021
It is hoped that close to a quarter of a million vaccines will be administered across the country next week.
CEO Paul Reid said the HSE is on target to deliver between 160,000 and 180,000 vaccines this week and this is set to rise to between 220,000 and 240,000 vaccines next week. He said they are currently working on revised plans – now onto version 27 – but he anticipated that the final number of vaccines would fall somewhere between those two numbers.
"There is growing momentum in the vaccine programme and we have good reason to have confidence today and give people a spring in their step," said Mr Reid, noting that the vaccination programme has brought reduced illness, hospitalisations and mortality in the over 70s.

There has also been a 'massive return to work' of healthcare workers who were close contacts, he said.
There have been 1.48m vaccines administered to date in total, with 28.2% of the adult population now vaccinated with one dose and over 11% have fully completed their two doses.
Mr Reid said the HSE expects to announce shortly that people aged 50-59 can register for a vaccine appointment online.
Vaccination centres
There are currently 30 vaccination centres up and running across the country. Six more will open next week with the remaining two the following week to bring the total up to 38 to meet the growing supply of the vaccines available.
One of the centres now up and running is the one in Mallow GAA grounds in North Cork.
The centre's lead coordinator Mary B O'Sullivan, said that she was 'excited' to see the centre come together.
Ms O'Sullivan encouraged those who may be feeling anxious about receiving the vaccine to "please vaccinate".

I would say absolutely vaccinate and if there is anybody in any doubt I would suggest they chat to their GP and equally if they come in and they are anxious we will have somebody here to relieve their anxiety.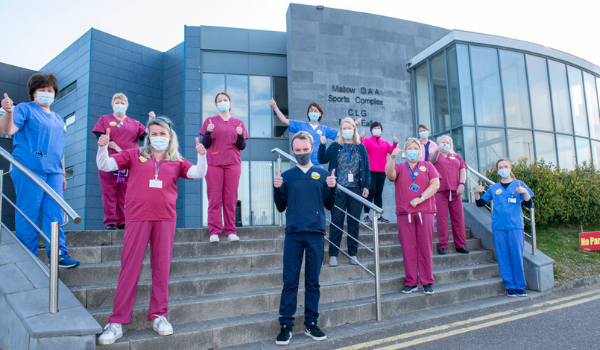 She thanked the HSE Estates Department for its involvement in the setting up of the centre, as well as the on-site security staff, ushers, vaccinators, medics, and Mallow GAA for facilitating the venue to be used as a vaccination centre.
Missed vaccines
COVID-19 vaccines are still available to all frontline healthcare workers who have not yet been vaccinated, regardless of their age.
If you are a frontline healthcare worker and you registered for your vaccine before midday on Friday March 26th, you do not need to register again.
If you have not received your vaccine, email the vaccination lead in your hospital group or community healthcare organisation (CHO).
Click here for vaccination lead contact details 
Working from home
CEO Paul Reid today issued a message that those staff who can work remotely must continue to do so. On-going physical attendance at HSE workplaces is only permitted where the work that you do can only be done when physically present in the office, and cannot be done remotely.
HR will issue an updated Memo on Attendance at the Workplace/Working from Home in the coming days. This will add to the guidance in HSE HR Circular 15/2021, setting out essential roles which require physical attendance by staff at the workplace throughout the levels.
Read the policy on Public Health Service Employees Working from Home during COVID-19 here.