Published: 25 June 2021
A very high COVID-19 vaccine uptake in the country has resulted in 62% of the adult population having received their first dose and almost 37% now fully vaccinated.
HSE CEO Paul Reid said the vaccines 'are definitely winning against the virus', he stressed that it was 'still far early to be declaring victory or taking a lap of honour at this stage'.
"We're at a point of unease and apprehension as to what might happen next," he said.

"We are certainly in a stronger position now than we were in January. We didn't have the vaccination programme, we didn't have the percentage of the population vaccinated, and we didn't have the clear demonstration of the benefits of vaccination. Our healthcare staff are fully vaccinated so we are in a much better position."
Over 300,000 vaccines were administered each week in recent weeks and Mr Reid said the HSE will continue to vaccinate people as quickly as it can based on supply.
He said that 2,700 people who are housebound have been vaccinated with a first dose and 2,300 with dose two. Fewer than 100 referrals for home vaccinations remain outstanding.
HSE Chief Clinical Officer Dr Colm Henry pointed to the real-world benefits that the health services have seen due to the vaccine programme, with no outbreaks of the virus across nursing homes, acute hospitals and county hospitals in the past week.
He said infections among healthcare workers in acute hospitals have collapsed from a peak of over 1,000 in the middle of January.
He also revealed that administration of the second dose of the AstraZeneca vaccine is due to be completed in the week beginning July 19th.
HSE Lead for the vaccination programme Damien McCallion said the last vaccines are likely to be administered to adults in late September or early October. He said that if there is approval for adolescents to be vaccinated, that could run into October.
191,000 people aged 35-39 have registered for vaccination. The HSE is waiting to see the uptake in this group before it opens up registration for the vaccine to the 30-34 age group.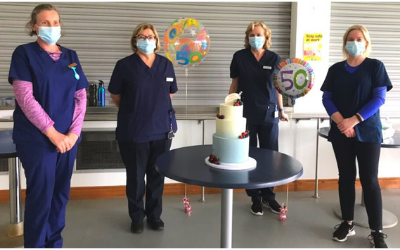 Meanwhile, the vaccination staff at the Institute of Technology in Sligo were celebrating this week as they passed 50,000 vaccine doses administered since the centre opened in February.
Saolta Group CEO Tony Canavan said the success of the vaccination programme have driven down COVID-19 numbers in the community.
"This has been a really positive achievement by people themselves in the west and north-west. People are attending for vaccines in droves and are continuing to follow all the good practices, such as social distancing, wearing face masks, and hand hygiene," he said.