Published: 13 August 2021
CEO Paul Reid this week confirmed that three million people are now fully vaccinated in Ireland. Describing how the vaccination campaign was now "in its final leg", with over 6.2 million vaccine doses administered to date.  
Mr Reid further confirmed that by mid-morning yesterday, Thursday, August 12th, within hours of the registration portal opening for that age group, over 42,000 children aged between 12 and 15 had been registered.  He noted that this was likely to be the last age group of the vaccination campaign.  Describing the uptake as "very encouraging,"
Mr Reid noted that "what we've seen with all of the age groups we have launched, is that there has been a significant registration on the first day and then steady registration for each of the days and weeks after that.  It's very encouraging to see such high numbers registering over the first few hours but we do expect it to remain consistent and follow the same pattern we experienced with other age groups.  We will start to vaccinate 12-15 year olds this weekend, we know many people have got appointments already.  We also expect to roll out extended hours to support parents bringing children in to the vaccination centres.  But obviously we are continuing to administer Dose One and Dose Two to the other age groups in the vaccination centres." 
Encouraging parents to look at the information on the HSE website on the benefits and risks of the vaccine, Dr Lucy Jessop, Director of the HSE National Immunisation Office said that the HSE is offering two doses of the MRNA vaccine, three to four weeks apart:  "The vaccine is strongly recommended for young people who have an underlying medical condition that puts them at increased risk of severe COVID-19 disease and that is also strongly recommended for young people who live with people who are at increased risk of COVID-19 disease.  We are offering appointments very quickly to those who register."

Dr Jessop stressed that there is "no evidence that the vaccine affects fertility nor is there any evidence that the vaccine can affect your menstrual cycle. The mRNA in the vaccine is quickly broken down and does not become part of the body.  Many pregnant women have received mRNA vaccines and there have been no unexpected side-effects to the mother or their baby."

Outlining the process for registration Dr Jessop explained that "the young person must be registered by a parent or legal guardian. Contact details and PPSN should be provided.  You can also register by phone through HSElive.  Vaccines are also available at participating GPs and pharmacies.  If you register online, your appointment text will be sent soon after."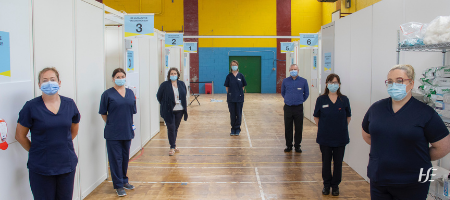 Continuing the rollout of further satellite vaccination centres over the past number of weeks, two satellite centres in the North West and West have been opened to make it easier for people living in these areas.   The satellite centre in Carndonagh, Co Donegal, opened to serve the population of the Inishowen Peninsula and surrounding area. This centre is managed and staffed by the central vaccination centre based in the LYIT in Letterkenny.
The satellite centre in Clifden, Co Galway was opened to administer the vaccine to people in Connemara and West Galway. This centre is managed and staffed by the central vaccination centre based at Ballybrit Racecourse in Galway City.  Walk-in clinics were held in Clifden to facilitate locals as well as tourists who might be on holiday in the area. A second dose was then arranged at a vaccination near to their home address.
Find your local walk-in vaccination clinic
The vaccination rollout team produced 'walk-through' videos to give an inside look for people planning to get their vaccine in Carndonagh. The walk-through video for Clifden was also produced in the Irish language.
Watch: HSE (Satellite) Vaccination Centre, Carndonagh, County Donegal - Public Information
Watch: HSE (Satellite) Vaccination Centre Clifden - Public Information Video
Watch: HSE (Satellite) Vaccination Centre Clifden - Public Information Video (Irish language)