Published: 22 July 2021
One million vaccines have been administered since the start of July and two thirds of adults in Ireland are now fully vaccinated. 
There were 5.34 million total vaccinations in the State up to July 21st, and 77% of the adult population have received at least one dose of a vaccine, with 2.49 million fully vaccinated and over 3 million partially vaccinated. 
HSE CEO Paul Reid praised the continued strong progress of the vaccination programme but said the threat posed by the Delta variant is the 'last big hurdle to cross' in relation to COVID-19.
"The variant has potential impacts through the rest of this month and into August and September. But we should go into it with a level of confidence, due to the vaccine programme giving even more protection every day," he said.
Mr Reid said confidence should be taken from the continuous scaling up of the testing programme and said,
"The vast majority of the Irish public will again do the right thing. No one wants to see the loss of strong progress of the vaccination programme."
HSE Chief Clinical Officer Dr Colm Henry confirmed that of the 26 patients admitted to ICU who were at least partially vaccinated, almost 90% had an underlying condition. There were 70 deaths confirmed between May 13th and July 13th, of which 41 were among unvaccinated (59%), 17 among partially vaccinated (24%), and 12 among fully vaccinated (17%).
Meanwhile, the Community Vaccination Centre has opened in the National Show Centre in Swords. It has relocated from The Helix, DCU to allow for the return of university students in September.
The National Show Centre, Swords is one of two Community Vaccination Centres operating in the CHO DNCC area alongside Croke Park.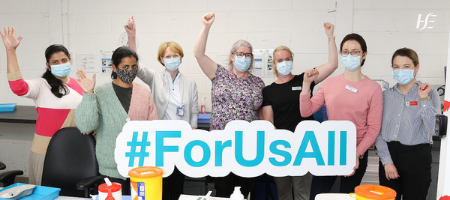 With 50 vaccination booths available, the National Show Centre, Swords has capacity for up to 5,000 vaccinations a day, and operates from 8am to 8pm as required. 
Chief Officer Mellany McLoone said: "The relocated Community Vaccination Centre at the National Show Centre in Swords will play an integral part in the continued rollout of the vaccination programme across all age groups and cohorts, continuing the work that has been carried out by the CHO DNCC team at the Helix at DCU over the last five months, with over 200,000 vaccinations administered. I would like to pay tribute to our multi-disciplinary team who ensured the smooth running of the centre during this time. I have no doubt that they will replicate the service at our new location in Swords."