The National Office for Policies, Procedures, Protocols and Guidelines (PPPGs) is a part of the National Health Library and Knowledge Service, Research and Evidence.
We are currently in the initial phase of creating this space and populating it with guides and resources for the creation and the review of PPPGs.
There are two online resources where you may access current PPPGs.
The COVID-19 HSE Clinical Guidance and Evidence Repository
This site provides a national easily-accessible repository of clinical guidance to equip the clinical community in Ireland with the requisite information whilst working within the current COVID-19 environment.


Lenus, the Irish Health Repository, PPPG collection
A collection of all PPPGs (clinical and non-clinical). If you have a national PPPG that is not listed on either of these two repositories, or if you're developing a new national PPPG, contact us at pppg.office@hse.ie. Attach the PPPG in PDF format.
HSE National PPPG Steering and Project Groups
The HSE National PPPG Steering and Project Groups were established to:
develop a national framework for developing PPPGs, with guidance for service providers to implement the NCEC Standards for Clinical Practice Guidance
outline the processes for the establishment of a National Central Repository Office (NCRO) for HSE national approved PPPGs
Members of the HSE National PPPG Steering Group and PPPG Project Group
We are looking for a patient representative to join us
The purpose of the PPPG Governance Group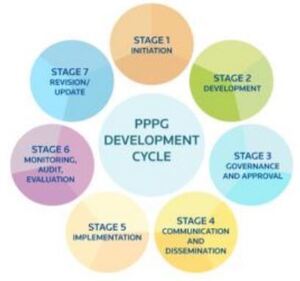 In 2015, the Department of Health was requested by the Minister for Health to develop Standards for Clinical Practice Guidance following the Report of the Chief Medical Officer into Portlaoise Perinatal Deaths (2014).These standards were developed by (NCEC) in the DoH and published in November 2015.
The purpose of the group is to provide clear governance to standardise the process for development and the process of approval of all HSE national PPPGs and to over see the establishment of a HSE National Central Repository where they can be accessed.
How you could make a difference:
you will have a say in how PPPGs are developed in the health service
your feedback will be valued and acknowledged
you will have an opportunity to provide advice and oversight on the establishment of the National Central Repository which will be accessible to all staff and to the public
As a member of the PPPG, the patient representative will be invited to quarterly meetings held in Dublin. Travel expenses will be reimbursed.
To apply, complete the Patient Representative Engagement request form (Word, 146.8 KB)
For further information contact Aoife Lawton, National Health Service Librarian: Aoife.lawton@hse.ie; phone: 016352190
Queries
John Kennedy, PPPG Project Manager: john.kennedy12@hse.ie
Melanie Dunne - Project Officer: pppg.office@hse.ie
National Health Library and Knowledge Service Dr Steevens Hospital Dublin 8