UMHL a standard-bearer for national model of perinatal mental healthcare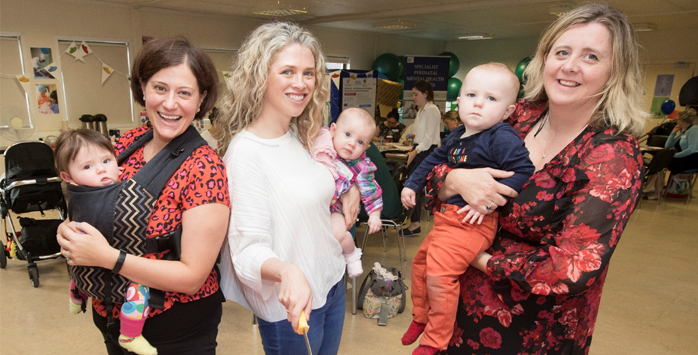 The Specialist Perinatal Mental Health Service at University Maternity Hospital Limerick recently marked its first 18 months with an innovative workshop event where mums provided staff with vital feedback on their experiences with the service that will inform its future development.
'Whose Shoes' is a fun workshop experience, attended by doctors, midwives, parents and their babies, creating a relaxed, open space that helps draw out the kinds of feedback and information from service users and staff and reinforce the two-way relationship between maternity hospitals and women who require an accessible and skilled response to mild or severe mental health problems during pregnancy and the first year post-delivery.
At the core of the 'Whose Shoes' experience is an interactive board game requiring parents and healthcare professionals to put themselves in each other's shoes. Through gameplay, important themes emerge, and the discussion of these lays the groundwork for solutions to help improve the service for patients and staff. Most importantly, parents and staff alike can make pledges and take ownership of such solutions by becoming involved in the initiatives.
The recent Whose Shoes event at UMHL was the second at the hospital, and the first to deal with the Perinatal Mental Health Service. The event was attended by almost 30 people, including members of UMHL staff, key personnel from the Specialist Perinatal Mental Health team, a large number of mums and some very vocally happy young babies.
The UMHL team was delighted to welcome Fiona O'Riordan, the HSE's National Programme Manager for Mental Health Clinical Programmes, for the occasion.
Among the main issues that emerged from discussions during the board game were societal attitudes toward perinatal mental health, and 'gendered' expectations about motherhood; communications skills training to help staff identify post-natal stress; and the need for more individual, personalised care, and greater continuity of care.
A particularly positive takeaway was feedback on how the service has helped mothers build stronger relationships within their families. Another prominent theme emerged around the specific needs of fathers and partners, laying tracks for the future development of the service to meet these needs.
"There is no such thing as negative feedback" said Mental Health Midwife Manager, Maria Gibbons. "All the feedback that we've received through Whose Shoes has been constructive, and it's something we can all work on together, to make the service better for the future."
The feedback is reinforced by pledges, ranging from personal undertakings to devote more time to self-care, to requesting Mid West Mental Health Services to include maternal mental health in awareness-raising campaigns, and setting up a web page collating all information on free groups, classes and services for parents in Limerick, Clare and North Tipperary.
Among the staff pledges were a proposal to extend mental health screening beyond the service booking visit; an undertaking to spread the word in the community about the perinatal mental health team in UMHL; and a pledge by Margaret Quigley, formerly Group Director of Midwifery and now National Lead for Midwifery, to assist in establishing a 'Whose Shoes' event for student midwives.
For Fiona O'Riordan, National Programme Manager for Mental Health Clinical Programmes, the Whose Shoes event provides crucial insights not just into what is working about the service, but also how it can be improved: "Events like Whose shoes are fantastic for directly hearing the feedback of service users. We get to hear first-hand from women who have got the intervention they needed at the right time, early on in their pregnancies."
"It is very encouraging to hear first-hand that the Perinatal Mental Health Service in Limerick, which was the first to be established outside of Dublin, has made such an impact, even before the team has been fully formed. Since April 2018, it has seen large numbers of women," she said. All six of the 'hub' sites established under the model of care are now up and running, including UMHL, all three Dublin maternity hospitals, Cork and, in recent weeks, Galway.
Michelle Daly-Hayes, who was one of the first users of the service in Limerick, told the gathering about her experiences with post natal depression, and how the service had helped her during pregnancy: "I found the preparations for my scheduled C-section excellent. They gave me a tour of the theatre the week before, and advice on what to wear and what my husband should wear. But for me, the most important part was having the check-in after birth. Knowing that someone was going to call me and say, 'Let's have a chat; let's talk about you; let's not talk about the baby and what he is doing, or even your physical health, but about how you're feeling.' That made the post-partum period so much easier. Another important thing was that I was referred to the Community Mothers programme in Limerick. There are many amazing services going on in the community in Limerick, and this programme is about bringing that all together and connecting all the dots. Getting out in the community was very important for me. I had my first pregnancy in Dublin, and then the second one down here in Limerick, and I'd been away for 10 years, so I found the isolation quite difficult when I moved back at first."
"Ultimately," Michelle explained, "it all comes down to self-care. It's all about looking after yourself as well as looking after your babies. I've met many, many women who are on this journey, and everyone struggles, so it's important to pat each other on the back and say ''Well done!' from time to time."
The Perinatal Mental Health Service team at UMHL consists of a Perinatal Psychiatrist (Dr Mas Mohamad); a Mental Health Midwife Manager (Maria Gibbons); a Senior Clinical Psychologist (Dr Niamh O'Dwyer, who is the first Clinical Psychologist to be appointed to a Specialist Perinatal Mental Health team under the new model of care); administration support (Sheree O'Brien), and, rotating every six months, one junior doctor (NCHD). This core team will soon be enhanced by two Psychiatric Clinical Nurse Specialists and a senior Social Worker.
Between May 2018 and July 2019, the service received 822 referrals and had 1143 outpatient appointments (not including DNAs and cancellations), with 443 new patients seen. Total patient contact from outpatient appointments and inpatient reviews was 1704. Over the course of its brief existence, that makes a monthly total of 55 new patient referrals, 30 new patients seen, and a monthly average of 114 patient contacts
The team is constantly actioning initiatives to improve the service, and this month has recently begun offering art therapy for antenatal patients, and are at an advanced stage of applying for funding for a music therapy collaboration with the Irish World Academy of Music and Dance at the University of Limerick, UL Hospitals Group's academic partner.
Other achievements include the establishment of a multidisciplinary Perinatal Mental Health Research Group that meets monthly. This group has several research projects either ongoing or completed, and the service hopes to showcase some of its findings at the annual Perinatal Mental Health Conference on December 3rd in the Clinical Education and Research Centre (CERC) at University Hospital Limerick.
Team members are also heavily involved in training and education, including the Supporting Perinatal Mental Health Module and Masters Programme at the University of Limerick. The service also hosts a biannual study day for midwives and Public Health Nurses (PHNs) in October and April, and provides lectures and tutorials for students in the Graduate Entry Medical School (GEMS) in UL, teaching psychiatry and obstetric NCHDs.
Dr Mas Mohamad, Perinatal Psychiatrist with the UMHL Specialist Perinatal Mental Health team said: "We're extremely fortunate here in the Midwest to have highly motivated individuals with ambitious goals for the Specialist Perinatal Mental Health services. As listening is a key skill in mental health, in order to identify gaps and to continually improve services, we must listen to our service users and the healthcare professionals referring them on to us. This, alongside collaborative research, will hopefully bring us closer to our goal of becoming a Centre of Excellence."