UL Hospitals Group and UL volunteers complete crucial life-saving skills training mission for healthcare workers in Ghana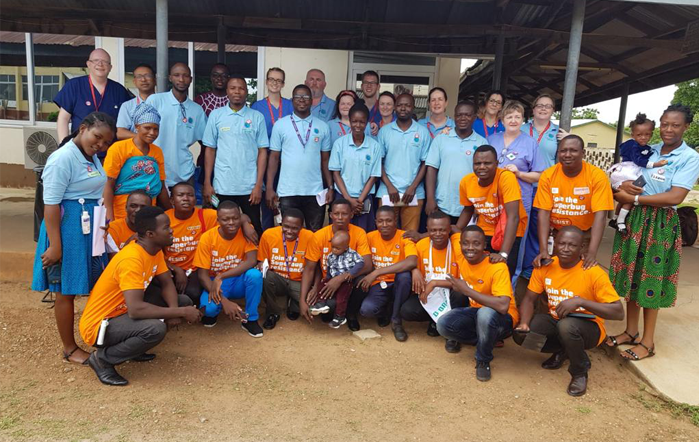 A team from UL Hospitals Group (ULHG) and the University of Limerick (UL) has returned from Ghana having completed its three-year plan to establish a programme of emergency care skills training for healthcare workers in community health facilities and hospitals in the remote Upper West region of the African nation.
Learning for Lives – Ghana (LfL Ghana), a collaboration between ULHG, UL Graduate Entry Medical School (GEMS)and UL Paramedic Studies in partnership with the national health service of Ghana, has surpassed its initial goal to minimise preventable deaths by providing training in Pre-Hospital Emergency Care skills.
Travelling annually to the regional capital, Wa, since 2016, LfL Ghana has provided 240 Community-based Health Planning & Services (CHPS) workers with basic life-saving skills, and delivered specialist instruction in hand hygiene, sepsis, physiotherapy, nutrition and neonatal care, both in the community and to hospital staff.
By including a Train The Trainer course on its curriculum, the team has also created a local training cohort in the Upper West of 30 Trainers, including eight Super Trainers, ensuring continuity and sustainability of training and paving the way for a positive transformation of healthcare standards for 1m residents in communities throughout the Upper West.
It's this sense of local ownership that for the 11-strong LfL Ghana team is the ultimate vindication of this mission, which realises a key strategic objective of UL Hospitals Group that was prioritised by ULHG CEO, Colette Cowan.
Noreen Spillane, Chief Operations Officer of UL Hospitals Group said, "Humanitarian volunteering is a key part of the Group's strategy, establishing links with the developing world in a sustainable, targeted and meaningful way. The project in Ghana realises this key strategic objective and we are very proud of the team's achievements to date in Ghana."
Katie Sheehan (Assistant Director of Nursing, Croom Orthopaedic Hospital), who has been with LfL Ghana since its inception, admitted that she was unprepared for how swiftly the local CHPS workers would take charge of the training programme.
"I never thought we would get quite so far, so soon. The eight Super Trainers have made a huge difference. They were delivering programmes and supervising trainees with only minimal input from us. We independently validated their testing, and our marks were identical to theirs," she explained.
Yvonne Young (ADON & Lead for Sepsis, ULHG), agreed: "As I was observing the training sessions, I was thinking, 'This is happening. This is really working.' It was running at a level way beyond what we'd imagined. It shows what can happen when you empower people and give them a chance."
Frank Keane (Senior Clinical Teaching Fellow in Paramedic Studies, UL GEMS) said the LfL Ghana project was vital in a society where even the best primary health infrastructure, the CHPS facilities of the region, was on a par with the Ireland of the 1930s. "Journey times in Ghana would be unimaginable in Ireland," Frank said. "We met one lady who'd carried her 12-year-old son for six hours to get him to hospital because he was ill with malaria."
Dr Joe Kelly (Emergency Medicine Consultant) said that prior to the introduction of Pre-Hospital Emergency Skills training, emergency healthcare options were limited for local residents. "If someone became unexpectedly unwell, they might have stayed in their hut in their village, unwell, and possibly died. They might have gone to a traditional healer, or travelled four or five hours on the back of a motorbike to hospital. By training community nurses to undertake stabilising procedures and provide pre-hospital emergency care, we've made such journeys less necessary and provided more options; and the fact they are now providing the training themselves is fantastically exciting."
For Prof Roy Philip (Consultant Paediatrician & Neonatologist, UHL), the latest training mission embodied the 'Learning for Lives' title of the organisation: "I was so touched by the neonatal environment in the hospital, where they use all their limited resources to save small and premature babies from dying. We were literally providing 'learning for lives', training staff in the resuscitation of babies, and how to deal with babies with severe forms of malaria, and severe malnutrition."
The initiative was a two-way exchange of ideas and the Limerick team was frequently astounded at the ingenuity of their Ghanaian peers. Mary Flahive (Senior Physiotherapist and Practice Tutor, UHL) and Rosalie Stack (Senior Physiotherapist, Croom Orthopaedic Hospital) were blown away by the innovative work of the hospital's physiotherapy staff who, despite the lack of budget for essential equipment for children with Cerebral Palsy, make customised chairs and standing frames from reinforced cardboard.
Sheila Bowers (Dietitian Manager ULHG) delivered a number of nutrition related education sessions "I was really impressed with the staff's enthusiasm to learn and teach each other. On the neonatal ward, I delivered a presentation to staff on the importance of breastfeeding and complementary feeding, which the ward manager then delivered to new mothers. Afterwards, the ward manager wanted to develop the visuals into a resource the mothers could take home with them."
On the final day of training, one of the Ghanaian trainees, Elenora, spoke for many when she gave her thoughts on the programme: "This has been a great experience. We have learned a lot, and we intend to put into practice all we have learned in taking care of and providing social care to our clients. It's been a great experience and we thank you very much for your support. God bless you." Even within days of the LfL Ghana team's return home, the CHPS facilities throughout the Upper West had been inundated with requests for training.
LfL Ghana team members are focused on the future, as they prepare their final report and make the case for extending ancillary programmes in Nutrition, Paediatrics, Neonatal Care, and Physiotherapy. Katie Sheehan concludes: "The medical training needs in Ghana are immense, and the biggest challenge will be prioritizing these needs. However, the potential for improvement is limitless."