RESIST: Campaign across UL Hospitals Group to Reduce Infection and Antimicrobial Resistance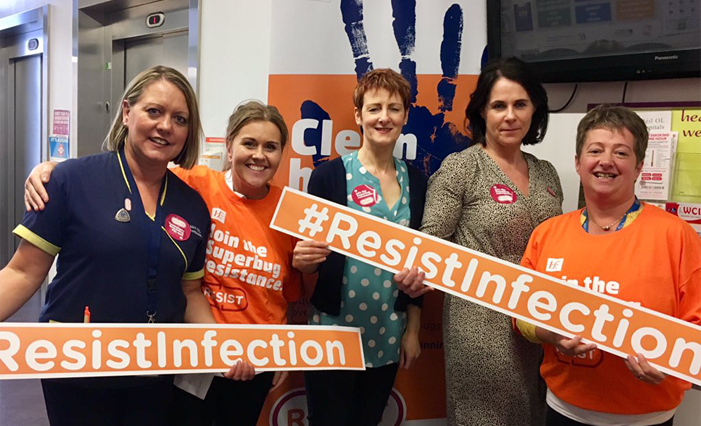 New hand hygiene training programme for staff
Patients and visitors can also play their part
A new hand hygiene programme is being introduced across UL Hospitals Group as part of a wider national campaign aimed at reducing antimicrobial resistance and infection in hospitals and healthcare environments.
RESIST is the new identity for a number of initiatives under the HSE Antimicrobial Resistance and Infection Control programme (AMRIC). One such initiative is a National Hand Hygiene Train the Trainer Programme, which has been piloted in four pilot hospital sites – the National Maternity Hospital, Holles Street; Cavan General Hospital; Portiuncula Hospital and across UL Hospitals Group. Following the successful pilot, UL Hospitals Group is the first Hospital Group to move forward with full implementation of the programme.
UL Hospitals Group has been providing training and support for hand hygiene for many years. This initiative is about a fresh approach to hand hygiene training to hospital staff, including greater involvement of hospital staff, patients and visitors
Speaking as the RESIST Campaign was launched at UHL, Prof Martin Cormican, HSE National Clinical Lead for Antimicrobial Resistance, said: "Proper hand hygiene is such a critical issue for all of us, both at home and in our health services. We are delighted that we are launching a new hand hygiene awareness programme across UL Hospitals Group, a programme that is aimed not just at those delivering care but at everyone who comes into the hospital, including patients and visitors."
"Some infections can spread in hospitals and can be very serious for patients. We can all help reduce the spread of these infections if we as healthcare workers, patients and visitors all make sure that our hands are clean. Hand hygiene practice is already much better than it was years ago but we need to keep improving because patients in hospital are much more vulnerable than they were 10 years ago. As hospital staff we might need to clean our hands 10 times in an hour. That can be hard to remember every time so we are always looking for new ways to support each other on cleaning our hands. That is the goal of this initiative. Patients and visitors also play a part in reducing the spread of infection by following advice on hand cleaning and remember that if you feel up to it, it is OK for you to ask me if I cleaned my hands," Prof Cormican added.
Barbara Slevin, Assistant Director of Nursing, Infection Prevention & Control for CPE Management, UL Hospitals Group, said: "Cleaning your hands properly, at the correct time, when delivering care to patients, is the most effective way to stop the spread of many common infections. When healthcare workers – whether they are doctors, nurses, carers, allied health professionals, porters or anybody who comes into contact with patients - keep their hands clean, they help prevent the spread of serious healthcare-associated infections. These are infections that can happen during healthcare delivery in hospitals, residential facilities, outpatient services and even in the patient's home. UL Hospitals Group has for many years had bespoke hand hygiene training programmes of its own to protect our patients but we are always looking for ways to improve our standards. The RESIST programme will help us to do that and we are delighted to be the first hospital group to move to put this programme into practice."
Patients and their families can also play a big part in reducing the spread of infection. There are things you can do to protect yourself from picking up an infection or superbug while you are in hospital.
Clean your hands regularly and use the alcohol gel in the hospital. Always do this after you go to the toilet and before you eat
Do not share your personal things with other patients – for example, your phone, your earphones, and so on
Keep away from other patients' beds
Do not let anyone sit on your bed, and don't sit on another patient's bed
It's OK to remind staff to clean their hands
It's OK to tell a staff member if you see anything that is not clean
Colette Cowan, CEO, UL Hospitals Group, said: "UL Hospitals Group is committed to reducing the spread of infection. We are delighted to be part of the national RESIST campaign to prevent the spread of infection and to protect our patients, our visitors and our staff. This hand hygiene awareness programme is part of a wider effort across the country to progress the National Action Plan on Antimicrobial Resistance and UL Hospitals Group is delighted to be playing its part. As we approach winter and the flu season, it is essential we do everything we can to stay well and to prevent infection."