New Patient Menus at UHL Providing Greater Choice and Better Nutritional Care for All Patients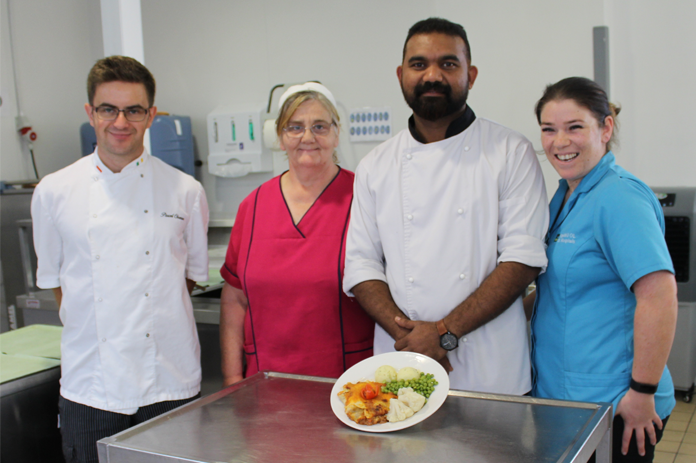 Improved Range of Therapeutic Diets and Texture-Modified Meals
New patient menus introduced at University Hospital Limerick aim to maximise the potential for patients to meet their nutritional requirements. This includes patients who are nutritionally well, nutritionally at risk, those with higher energy requirements and those who require a therapeutic or a texture modified diet.
Over the course of this year, the UHL Catering Department have been working to implement menu improvements. This work has resulted in the introduction of 10 different categories of menu, each offering patients a choice of food and each of which has been developed in consultation with the Department of Clinical Nutrition and Dietetics. The menu was designed following feedback from various stakeholders, including patients, and each dish outlines the calories and allergens present. Specific improvements have been made for patients on texture-modified diets who may have chewing or swallowing difficulties.
Good nutrition and hydration are quality issues fundamental to improving patient outcomes and reducing length of hospital stay and readmissions. It is estimated that approximately 1 in 4 patients admitted to acute hospitals in Ireland are at risk of malnutrition, with older patients, cancer patients, surgical patients and gastrointestinal patients among those at higher risk.
"It is essential that patients find our food appetising and attractive to the greatest extent possible," explained Cathal Russell, Catering Services Manager, UL Hospitals Group "and we have put a lot of work into improving our menus over the last two years. There was great buy-in from the start from all parties, from chefs and catering staff both in the main kitchen and on the wards, to dietitians and SLTs (speech and language therapists)."
"We are providing a choice of at least two hot options for both lunch and supper and that is for all menus, including those on therapeutic diets – renal, dialysis, gluten-free and so on – and for the growing number of patients on texture-modified diets who need particular attention. It is essential that they also have a choice and that their calorific and nutritional requirements are being met. So we have worked closely with the dietitians, with the speech and language therapists and with occupational therapists in developing these new menus."
"The catering staff here have worked hard to get things right and to move away from the processed, fatty foods that were incorporated into hospital menus too often in the past. The menus are now all about fresh produce wherever possible. Our soup is fresh seven days a week. Meat and vegetables are fresh seven days a week. Yes, we still have some frozen options, such as some vegetarian choices for example, but generally we strive to serve everything fresh as much as possible throughout the hospital," Mr Russell added.
Of the 500-plus patients the catering department may have to feed on any one day, between 30 and 50 patients are on texture modified diets. These may be patients with dysphagia (swallowing difficulties) arising from stroke, dementia, Parkinson's or other neurological conditions. Modified diets may also be required for patients who have had an ENT procedure or cancer patients with mouth sores resulting from radiotherapy.
The HSE's National Food, Nutrition and Hydration Policy for Adult Patients in Acute Hospitals 2018 , launched in April 2019 sets out four types of texture modified diet (soft, moist and minced, pureed and liquidised) and all four are available at UHL.
Aisling McGuinness, Speech and Language Therapist, UHL, said: "It is great to make these improvements for patients around quality and choice. For example, as recently as two or three years ago a patient on a soft modified diet, somebody with difficulty chewing, might only have had a choice of scrambled eggs night after night. Now we can offer them two or three choices and that really improves patient experience," said Ms McGuinness.
Rebekah Forbes, Dietitian, said affording more choice also helped patients in their recovery.
"I remember working with stroke patients, for example, in the past who may not have liked their options and more would have needed enteral (tube) feeding to meet their requirements. But now we are seeing more and more patients enjoy their food and being taken off these kinds of nutrition supports earlier and that makes a difference in their recovery too," said Ms Forbes.
Sheila Bowers, Dietitian Manager, UL Hospitals Group, said improvements in patient menus introduced by the Catering Department means "more patients getting their nutritional requirements, a better range of therapeutic diets, greater accountability in what is being offered. Feedback we get every day and through the National Patient Experience Survey reflect the improvement in food service delivery".
According to the NPES 2018, 73% of patients across UL Hospitals Group rated their food as good or very good.
Many of the menu improvements stem from work done by the Group's multidisciplinary Nutrition and Hydration Committee, which is responsible for ensuring that all patients admitted to hospital receive high-quality nutrition and hydration care .
Ms Bowers added: "We were pleased to see that many of the recommendations in the national policy launched this year have already been embedded in our practice not only here in UHL but also in Ennis, in Nenagh, in Croom and in University Maternity Hospital Limerick. We have conducted a gap analysis based on the national policy and identified our priorities for the coming 12 months. One of our priorities is the development and delivery of nutrition workshops to catering service staff".
"The catering and nursing staff have been very positive in responding to the changes recommended by the Nutrition and Hydration Committee and we have certainly made improvements in making our food more appetising; in protecting patient mealtimes; and in making sure patients who miss a meal through fasting or being off the ward for a procedure or investigation are offered a replacement meal – not just toast but a proper meal. Delivering quality food and choice are fundamental to improving intake ".
Healthier options are now available for patients but low fat low sugar meals may not always be the best option for all hospital patients, Ms Bowers explained.
"What is not always appreciated is that for a large number of patients, when appetite may be reduced or nutritional requirements are increased, the priority is to ensure adequate energy and protein is consumed. Foods that are high in fat and sugar can provide an important source of energy and therefore make a useful contribution to ensuring that nutritional requirements are met. The new menus allow us to respond more flexibly to individualised diets and to meet individual dietary needs," she said.