Limerick Cancer Nurse wins Sheila Clarke Bursary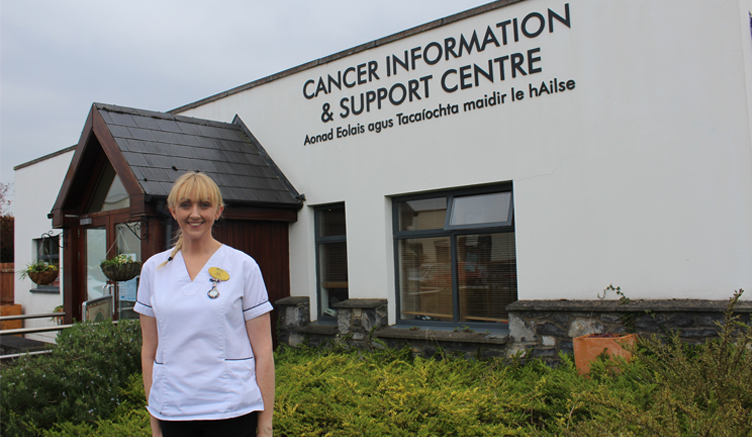 The Sheila Clarke Bursary is awarded to a staff nurse caring for cancer patients in memory of the late Sheila Clarke, a past president of the Irish Association of Nurses in Oncology (IANO) and a pioneer in the development of cancer nursing as a specialty in Ireland.
This is the third occasion on which the IANO has awarded the bursary; and the third occasion on which a nurse from the MidWestern Cancer Centre has been the recipient.
Brid, from Patrickswell, County Limerick, works on the inpatient ward 4B and also acts as a mentor for student and junior nurses on the inpatient ward, the day ward and outpatient clinics.
It is primarily for her work with patients recovering from cancer treatment that Brid was nominated by colleagues for the bursary.
Thriving and Surviving is a self-management programme developed by Stanford University which is being rolled out across the cancer centres in Ireland with the support of the National Cancer Control Programme.
Up to 15 participants attend a weekly two-and-a-half hour workshop over six weeks. The programme covers techniques to deal with problems such as fatigue, frustration, pain, isolation and disturbed sleep; living with uncertainty; exercise, nutrition and healthy eating; effective communication with loved ones and with healthcare professionals; decision-making around treatments and complementary therapies and more besides.
"I am a facilitator for Thriving and Surviving here in the Mid West Cancer Information and Support Centre. We started out last year with two workshops and we expect to run four this year," explained Brid.
"It is for patients who have finished their cancer treatment and it aims to provide them with the tools and techniques to better adapt to life post-cancer. Programmes like Thriving and Surviving are increasingly important because we have more and more survivors every year. There are 170,000 people in Ireland today who are living with or who are beyond cancer. That number is only going to grow so a programme like this is something we know our patients want. And it is also something we know from their feedback that they appreciate," said Brid.
"It is great for the staff also as we can forget we are nurses for a while and spend time away from the clinic and to talk with our patients about normal life, about the tools and techniques they can use in coping with everyday life when they may have chronic fatigue; in making decisions about their health; in getting active and eating well," said Brid.
Brid qualified as a nurse from the University of Limerick in 2010, having done much of her student training in UL Hospitals Group. She worked in the Chelsea and Westminster Hospital in London for a year and a half before moving to Sydney, where she worked for three years and where decided she would specialise in cancer nursing. After moving home to Limerick, Brid completed a Postgraduate Diploma in Cancer Nursing in University College Dublin in 2017.
"I loved my time abroad. Like a lot of nurses who graduated around the same time as I did, there were very few opportunities for us at home. But I used that time to see a bit of the world and to gain experience that I was eventually able to bring back home."
Having won the Sheila Clarke Bursary, Brid is currently in the process of applying to one of the world's most prestigious cancer centres, the Memorial Sloan Kettering Cancer Centre in New York City. The MSK saw over 23,000 inpatients and over 700,000 outpatients in 2017 and its 1,148 physicians and 3,721 nurses treat over 400 subtypes of cancer.
"It is the oldest and largest oncology hospital in the world and the attached research institute is also one of the most prestigious in the world. What I hope to do is participate in the five-day nurse observation programme, where I can attend various talks and lectures and also observe their whole service," she explained.
Anne Ryan, from Nenagh, County Tipperary, and Charlotte Ryan, from Killaloe, County Clare, are the previous winners of the Sheila Clarke Bursary.
Cathleen Osborne, Clinical Nurse Manager 3, Cancer Services, commented: "I am very proud that a nurse from Cancer Services in UHL has again won this national award.
"The designated Cancer Centre offers opportunities to nurses to gain excellent clinical experience rotating through the outpatient, day care area and inpatient ward
"Since joining our service, Brid has completed her graduate diploma in Cancer Nursing to consolidate her clinical learning. She is another example of the high calibre of nurses working in Cancer Services who are articulate, knowledgeable in this specialist area and central to the delivery of care co-ordinated with the multidisciplinary team. Brid is highly motivated by a desire to support patients and their families through a traumatic period of their lives and I had no hesitation in supporting Brid's nomination for this award."
Any patients who have completed their treatment and are interested in knowing more about the Thriving and Surviving programme should contact the Cancer Information and Support Centre on 061 485 163.