Children's Charity uses Creative Arts to Brighten the Days of Chronically Ill Children in MidWest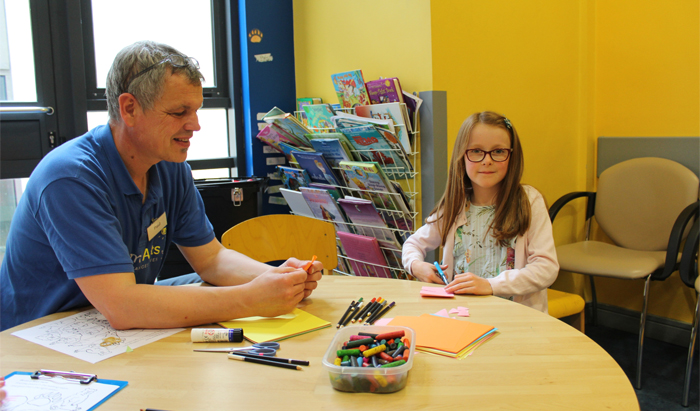 University Hospital Limerick has partnered with the national children's charity Helium Arts in improving the experience of young patients in outpatient clinics through art and creativity.
It is part of a wider programme by Helium Arts aimed at children and young people in Limerick aged 5-18. 
In January 2019, Helium Arts launched its first Creative Health Hub in Limerick. The programme supports children and young people managing long-term medical conditions to access creative activities in UHL outpatient clinics and in community settings across the city and county.
In UHL, artist Paul Bokslag has been bringing his "trolley full of fun" with lots of art materials and creative activities into hospital outpatient clinics.  Helium's programme is designed and delivered by Mr Bokslag, who facilitates creative activities in the hospital. The aim is to brighten hospital visits and provide distraction and fun to children while they wait in hospital and who may be feeling nervous about their hospital appointments.
There are close to 29,000 attendances in paediatric outpatient clinics per year at UHL and the environment can get exceptionally busy. And Paul and Helium's work in the hospital is already making a difference in helping children and parents manage the stresses of their hospital visit, according to mum Oda O'Connor, Dooradoyle, Limerick, whose daughter Cara, 8, regularly attends outpatients.
Speaking of a recent visit to OPD, Oda said:
"When we arrived at the clinic we were met by an artist from Helium who invited Cara to partake in a bear hunt and some art work.  She did so and thoroughly enjoyed the experience.  In her own words, she said 'that was the best fun I've ever had in the hospital, when am I going back'.  She normally does not want to go.

"We have been attending the clinic for a number of years now and although Cara is a very sociable child, she did not enjoy the visits.  The waiting area is very small and gets extremely overcrowded once you throw in a few parents, children and buggies.  The wait time is unfortunately, at least an hour and on occasions a lot more.  More often than not, there are a few upset children and plenty of stressed parents.  This visit, however, was a completely different story, the overall atmosphere was calm and relaxed.  The children were entertained and engaged, and many were even interacting with one another. As a result the parents were relaxed.  The time waiting for the appointment flew by.  I can only imagine that everyone from reception, nurses and the doctors felt the benefit of this fabulous service," said Oda.
If children enjoy the activity in the hospital, they can be referred through the medical staff in the hospital or their families to Helium's ongoing creative workshop programme in community settings. Over five weeks between May and June, Mr Bokslag is facilitating workshops in the community in the public library branches at the Granary and Dooradoyle. One workshop programme is for children managing various long-term conditions, with the other two for children with asthma or rheumatic conditions.
Through the workshop programme,  over the course of five weeks, children and young people take part in creative arts activities like painting, crafting, animation, outdoor creativity, printmaking, sound design, film making and much more. Through the creative process participants meet others going through similar challenges posed by illness and get to express and share in fun and creative ways, while learning creative life skills.
The aim of Helium's Creative Health programme is to offer a meaningful creative and social outlet to children and teenagers facing the social and emotional challenges of long-term, chronic illness. Helium is developing its creative health programme alongside a movement within the healthcare world that recognises the contribution the arts and creative engagement can make to health and wellbeing.
Mr Bokslag has over 20 years' experience working in inclusive arts programmes and is co-founder of the KCat Art and Study Centre in Callan, County Kilkenny.
"Working in the outpatients department of a very busy hospital is a completely different environment and something new for me also. I can see it is very rewarding for the children as well as rewarding for me myself. I can really see the need for it in OPD where art and creativity can help distract children from the stresses of the hospital environment," said Paul.
"It has been well received by the hospital staff and I hope it will lead to more social prescribing where doctors are not only thinking about medications but other therapies and social activities that are proven to help recovery and overall wellbeing. Creativity is about a lot more than paints and clay. It is a life skill that can transfer in so many areas," he added.
Helium Arts' Limerick Creative Health Hub is supported by the Arts Council of Ireland and is being developed in partnership with University Hospital Limerick, Limerick City and County Council and Limerick Culture and Arts Department.