A day in the life...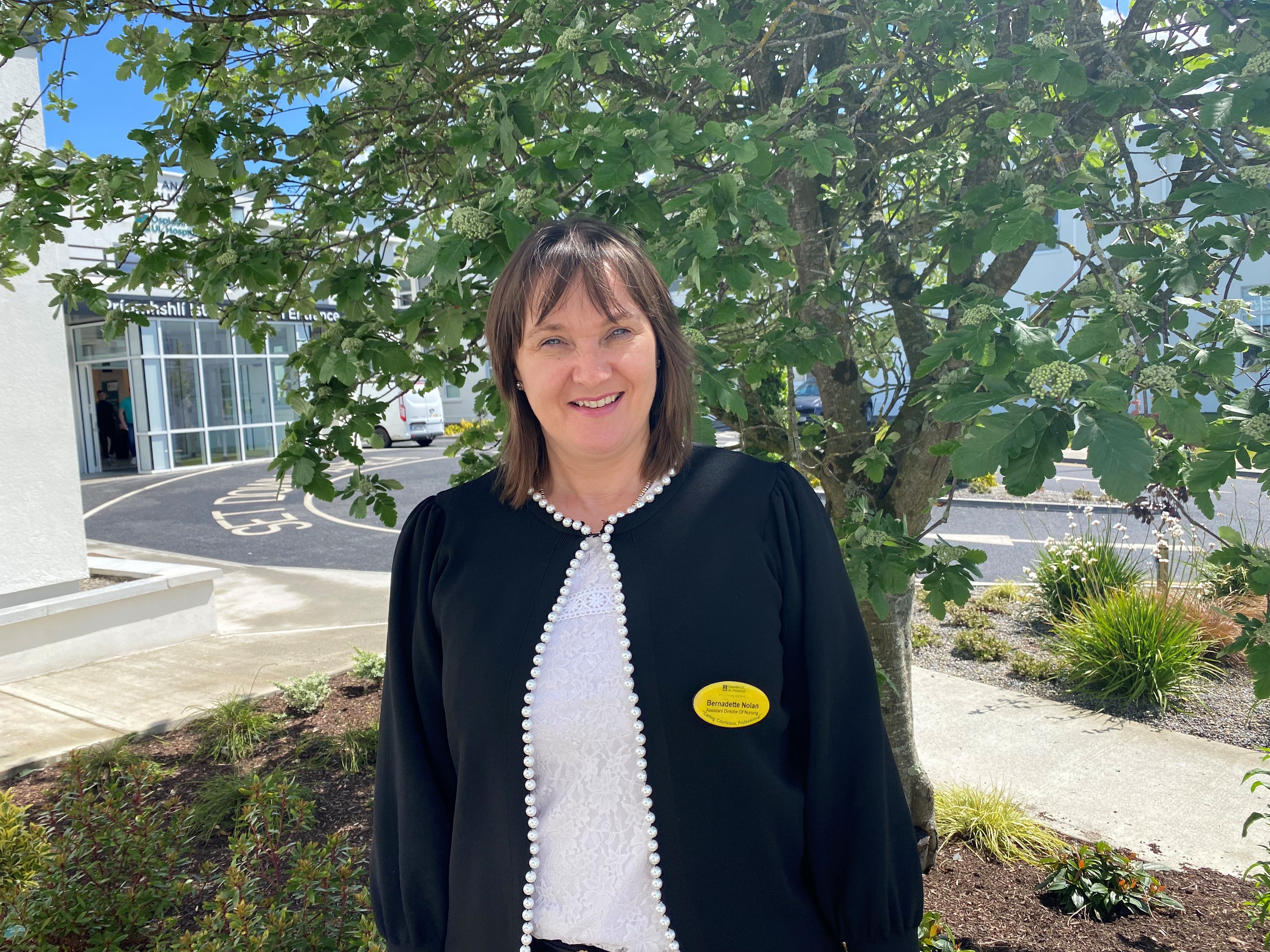 My name is Bernadette Nolan, I'm known as Bernie, and I am an Assistant Director of Nursing in Nenagh Hospital. It's a position that has two very distinct strands, covering both the operational and strategic management of the hospital.
When I'm not at work, I enjoy walking the scenic routes around the hills and valleys of Sliabh Phleim in my homeland of Rearcross, Co Tipperary, where I enjoy the tranquillity and quietness, and also get a chance to listen to one of my favourite sounds – the call of the cuckoo.
Tell us a little bit about you and where you work
My working day starts at 8am. Each day is different, and depends on what role I'm focusing on that day. Each day begins with a handover from the Assistant Director of Nursing as they complete their shift and highlight any concerns or issues to be addressed. Communication is really important as I have to liaise daily with all grades of staff, patients and their relatives and the general public, ensuring quality care is delivered in all areas of the Hospital. My role also involves planning, developing and future-proofing services to be delivered within the hospital.
Tell us what a typical working day involves
I really enjoy my role as ADON as it is such a varied position. No two days are the same. Every day is like a 'school day', in that I always learn something new. I love meeting and chatting with patients on my daily hospital rounds. For me, it's important to give patients an opportunity to outline any concerns or worries they have about their treatment that I can seek to address for them.
My favourite part of my working day is…
When I receive a thank you or compliment about the services in our hospital. I always ensure the relevant staff are notified of the acknowledgement. It gives them a 'lift' and reminds them of the value they add to hospital service delivery, and to people's lives.
My most memorable/exciting career moments to date
One of my most memorable career moments was the setting up of the Rapid Access Ambulatory Gynaecology Unit at Nenagh Hospital which opened in March 2022. This is a dedicated women-centred service, ensuring efficient early diagnosis that in turn leads to earlier treatment for women. An estimated 70% of general gynaecology referrals are suitable for management in a 'see and treat' setting. This new service is supported by the National Women & Infants Health Programme. It is an important step forward for women's health.
Tell us what is a key area of focus for you or your team right now
Most immediately, I'm looking forward to continued working with the multidisciplinary teams in promoting health and wellbeing for women's health with improved treatment outcomes. This service will expand as we embark on progressing menopausal and fertility services for women in the Midwest. I look forward to the expansion of the multidisciplinary team to support these services. We'll be working together to provide patients with seamless efficient care in our new ambulatory gynaecology unit, which will make a real difference to our service users.
______
The Rapid Access Ambulatory Gynaecology Unit at Nenagh Hospital will improve access to diagnostics and reduce wait times for specialist care for women in the Midwest. The initiative includes:
An ambulatory gynaecology unit
Menopause clinic
Subfertility service
The ambulatory gynaecology service commenced in March 2022, one of a number of such units opened around the country under national plans to improve outcomes for women through a new model of care.
These services are being established as one-stop, "see-and-treat" gynaecology clinics in which women can be assessed and treated following a GP referral. This new model will improve access to diagnostics and treatment, resulting in fewer hospital visits and reducing overall wait times for women.