International Year of the Nurse and Midwife
YEAR OF THE NURSE AND THE MIDWIFE EXTENDED TO 2021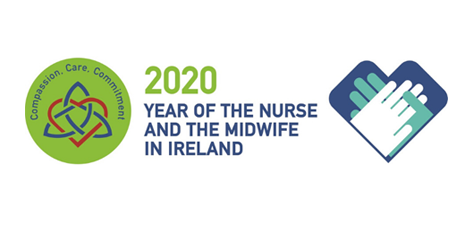 The World Health Organization has announced that the International Year of the Nurse and Midwife will be extended into 2021.
Speaking at the WHO Regional Committee in Copenhagen, Dr Hans Henri P. Kluge, WHO's European Director, said: "I salute here the nurses and the midwives. It is your year. But you have been so busy that in the WHO European Region I decided to extend the year into 2021. We will push back COVID-19 and I promise: we will celebrate you." The ONMSD HSE has welcomed this announcement. Further details of events planned for 2021 to follow.
Celebrating 2020 the Year of the Nurse & the Midwife in Ireland
As a result of the COVID-19 pandemic, planned celebrations for the first ever Year of the Nurse and the Midwife were curtailed. A virtual event was held on 1 October 2020 to celebrate Nurses and Midwives in Ireland entitled Reflect, Recover, Renew: Celebrating the International Year of the Nurse and Midwife in Ireland 2020. This was a collaboration between the Director of the Office of the Nursing and Midwifery Services (ONMSD), HSE, in partnership with the Irish Association of Directors of Nursing and Midwifery, The Office of the Chief Nursing Officer, DoH and the President of the Nursing and Midwifery Board of Ireland.
Related topic
Virtual Programme Presentations (PDF, 292 KB, 4 pages)
Year of the Nurse and the Midwife
Nursing Now a three-year global campaign to improve health by raising the status and profile of nursing.
The campaign vision is to:
To improve health globally by raising the profile and status of nurses worldwide
Influencing policymakers and supporting nurses to lead, learn and build a global movement
Executive Board, WHO designated 2020/2021 as the "Year of the Nurse and Midwife" in honour of the 200th anniversary of the birth of Florence Nightingale and in recognition of her contribution to health and humanity.
The year 2020/2021 is significant for WHO in the context of nursing and midwifery strengthening for Universal Health Coverage.
Nursing Now seeks to empower nurses to take their place at the heart of tackling 21st Century health challenges and maximize their contribution to achieving Universal Health Coverage.
The campaign focuses on five core areas:
ensuring that nurses and midwives have a more prominent voice in health policy-making
encouraging greater investment in the nursing workforce
recruiting more nurses into leadership positions
conducting research that helps determine where nurses can have the greatest impact
sharing of best nursing practices
The initiative is run as a programme of the Burdett Trust for Nursing in collaboration with the World Health Organization and the International Council of Nurses.
Related Topic
State of the World's Nursing report
First ever State of the World's Nursing Report was launched in April 2020 amid COVID 19 pandemic.
Related Topic
State of the world's nursing 2020: investing in education, jobs and leadership. Geneva: World Health Organization; 2020