HSE-HIHI Spark Ignite Competition 2021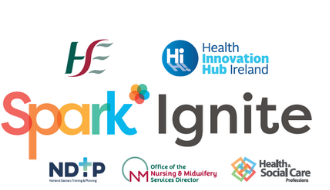 Do you have an idea for a solution that will impact? Spark Ignite might just be for you? The winners receive will some funding to further develop ideas and importantly on-going support and mentorship.
The Spark Innovation Programme has announced the launch of the third HSE-HIHI Spark Ignite Innovation Competition. Run in association with Health Innovation Hub Ireland (HIHI), the Health Service Executive (HSE), Office of the Nursing and Midwifery Services Director (ONMSD), National Health and Social Care Professions Office (HSCP), and National Doctor Training and Planning (NDTP).
HSE staff who work across the Irish healthcare system carry out wonderful work daily. This past year their response to the COVID-19 pandemic made an enormous difference to patients across all primary care, acute and national services. These front-line workers see the problems first-hand and have the expertise and passion to develop solutions. This competition provides an opportunity for those staff to develop their ideas for solutions.
The very best 'big ideas' from healthcare staff will be assessed, developed and showcased through this competition. This competition is seeking innovative ideas from the 115,000+ HSE employees aiming to improve patient and healthcare outcomes. Spark Ignite is open to all disciplines and departments within the HSE, enabling staff to develop their ideas through validation of clinical need and to determine the market for their proposed solution, product, or service. Successful applicants will also receive guidance on how to bring their ideas towards reality.
Spark Ignite is an opportunity for all healthcare staff to put forward their ideas for innovative products or services. The goal of the HSE-HIHI Spark Ignite Competition is to assist staff to develop solutions to the challenges faced by healthcare providers and patients.
Successful applicants will benefit from a bespoke healthcare focused innovation workshop delivered by experts, to hone their idea and proceed to pitch for prizes including a €3000 prize for an individual winner, €3,000 team prize and three runner up prizes of €1,000, in three regional competitions, followed by a National final for the six regional finalists.
Alan Hopkins Innovation Fellow: "After the fantastic success of HSE-HIHI Spark Ignite last year when it continued despite challenging times I am very excited to see the creative and innovative solutions from frontline workers in the HSE. The willingness that we continue to see from frontline workers to engage in such programmes despite the level of work they are doing is truly admirable and supporting entrepreneurship and intrapreneurship is more important than ever. With the workshops, mentorship and other supports that the programme offers we are sure to see the same brilliant standard of creative solutions this year."
The closing date is 25 March 2021