Celebrating 2020 the Year of the Nurse & the Midwife in Ireland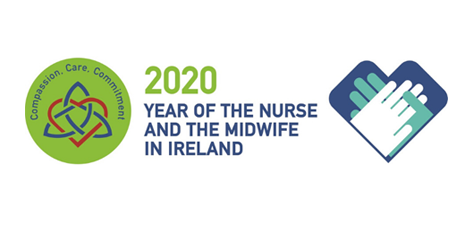 Influencing and Transforming through Values in Action
The Director of the Office of the Nursing and Midwifery Services, HSE, The Office of the Chief Nursing Officer, DoH and the President of the Nursing and Midwifery Board of Ireland will be hosting a conference to celebrate 2020 the Year of the Nurse and the Midwife in the Helix, DCU Campus, Dublin on Monday 25th May 2020 #NursesandMidwivesIrl2020 (view 'Save the date' poster)
Join us for a one day conference with a range of national and international speakers. Hear front line nurses and midwives share their clinical expertise.
View poster presentations and submissions for two bursary awards from your nursing and midwifery colleagues.
Call for submission of abstracts for Oral Presentations of Clinical Exemplars
We are inviting nurses and midwives across all divisions of the register to submit an abstract for oral presentations at this national conference.
This is an exciting opportunity to present your work to the wider nursing and midwifery community.
A total of nine clinical exemplars will be selected representing each division of the NMBI register, including two exemplars that demonstrate the use of technology to advance nursing and midwifery practice.
Topics for oral presentations should relate to the conference theme:Influencing and Transforming – Values in Action. Submissions must present examples of good practice or evidenced based practice initiatives, outcomes, or service innovations that have been or are currently being implemented.
Successful submissions will be invited to present their project within a 6-minute slot using a maximum of 4 slides at the conference.
Related topic
Please email your completed 'Submission Template' to: nursesandmidwives.irl2020@hse.ie by 5pm on Friday, March 20th, 2020.
For further queries contact nursesandmidwives.irl2020@hse.ie